What Illinois Hoteliers Need to Know about Hotel and Casino Panic Buttons for Legislation Compliance
by Jiun Wang, on Dec 2, 2020 1:29:45 PM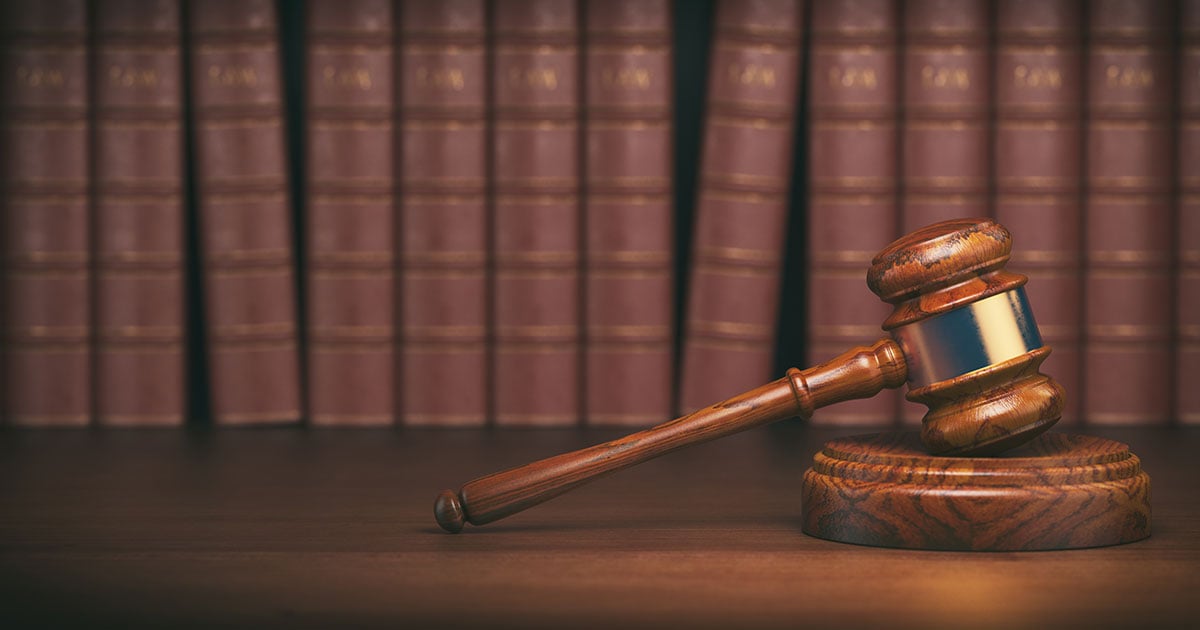 There has been a continuous roll-out of new legislative reform and brand commitments for improved employee safety across the hospitality landscape in the United States. In 2018, the American Hotel & Lodging Association announced the 5-Star Promise, a pledge to provide hotel employees across the U.S. with panic buttons, improved policies, training, including preventing and responding to sexual harassment and assault. The wide adoption of employee safety devices demonstrates how the hospitality industry is committed to protecting their most important asset - their people.
This article will cover the panic button compliance requirements for hotels and casinos in the State of Illinois. For more compliance details for other cities and states in the United States, view our comprehensive Panic Button Legislation Guide for Hoteliers here.
Disclaimer: The content and materials available in this article are for informational purposes only and not for the purpose of providing legal advice. You should contact your attorney to obtain advice with respect to any particular issue or problem. The opinions expressed at or through this site are the opinions of the individual author.


Overview
In the State of Illinois, the Hotel and Casino Employee Safety Act took effect on January 1st, 2020, with the exception of Article 5 to take effect on March 1st, 2021, and Article 6 to take effect upon becoming law. In Article 5, the Illinois legislation requires each hotel and casino to provide an employee working alone in an area with a panic button (i.e., safety device or notification device). In addition, the hotel or casino shall develop, maintain, and comply with a written anti-sexual harassment policy to protect employees against sexual assault and sexual harassment by guests.


Summary of Hotel and Casino Employer Responsibilities
The Illinois Hotel and Casino Employee Safety Act legislation applies to all sized hotels and casinos located in the State of Illinois. Defined the legislation, the term "employee" includes full-time, part-time, and subcontractors who work for a hotel or casino employer.
Main employer responsibilities consist of:
Providing all hotel or casino employees who work alone with a panic button device, at no cost to the employee.

Developing, maintaining, and complying with written anti-sexual harassment policies in English, Spanish, and any other language that is spoken by a predominant portion of its employees. The anti-sexual harassment policy shall be provided to all employees with a current copy and to post the policy in conspicuous places in areas of the hotel or casino.




Hotel or Casino Panic Button Devices
The panic button (i.e., a safety device or notification device) must be a portable emergency contact device that is designed to quickly and easily activate and alert for help. The activated alert must provide location information for prompt assistance by the property's security or emergency response team.
The intention of the hotel panic button provided to employees working alone is to be used to summon for immediate help during these types of situations:
Ongoing crime

Sexual harassment

Sexual assault

Other emergencies (e.g., medical, hazard on the property, and more)
By providing an employee with a device to easily and quickly call for help, a hotelier is protecting their employees from a threatening situation from becoming worse and addressing problems faster to protect their overall brand reputation. Some hotels (or casinos) may not have recently experienced an incident. Still, it's important to remember that these situations are real, as noted in public press reporting.


What Happens if a Hotel or Casino Doesn't Comply by the March 1st, 2021 Deadline?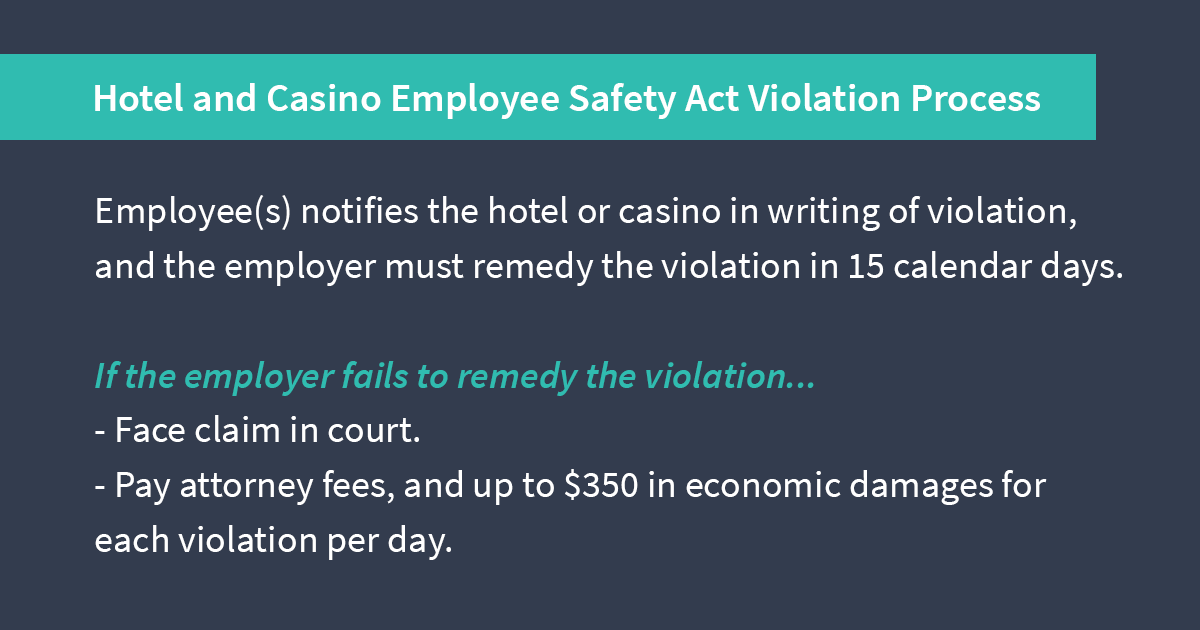 If a hotel or casino employer fails to comply with the Hotel and Casino Employee Safety Act (Article 5), the employees or representative of employees may notify the hotel or casino employer in writing about the violation.
After receiving written notice, the hotel or casino employer has 15 calendar days to remedy the alleged violation. If the hotel or casino has not remedied the violation, the employee(s) may bring an action against the hotel or casino employer in court. With a successful violation claim by the employee(s), a hotel or casino employer shall pay attorney's fees, costs, and economic damages up to $350 for each violation per day.


Finding the Right Panic Button Provider
Employee safety devices for hotel and casino employees are no stranger to the State of Illinois. In 2018, the Hotel Workers Sexual Harassment Ordinance went into effect in the city of Chicago and had since protected thousands of employees from various threats and dangerous situations. As a preferred technology vendor by the Illinois Hospitality Lodging Association, React Mobile has been continuing to work with hoteliers and casinos in the State of Illinois to protect their employers and comply with legislation and or CBAs. To avoid the last-minute rush to comply with the panic button legislation, we recommended starting the conversation with hotel and casino panic button providers sooner than later.
For full details of the State of Illinois Hotel and Casino Safety Act, please refer to the official text on ilga.gov.
Get started with your compliance requirements today.