What to Expect During a Workplace Safety Platform Installation
by Jiun Wang, on May 1, 2023 9:30:00 AM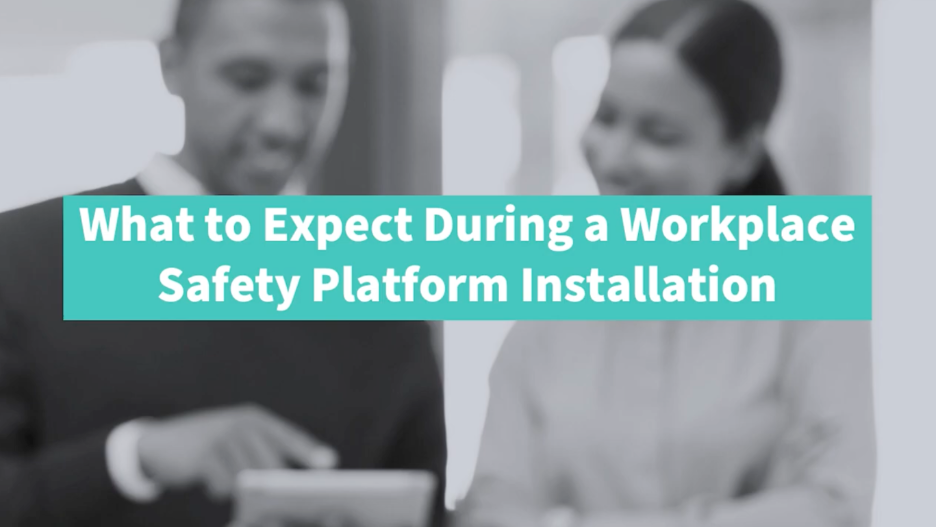 Ensuring the safety and security of employees has always been a top priority for businesses around the world. With the advancement of technology, workplace safety platforms have become essential in providing an added layer of protection for employees. However, the process of installing a workplace safety platform can be challenging and overwhelming, especially for those new to the technology.
In this article, we will guide you through the installation process of a workplace safety platform. We'll cover what to expect before, during, and after installation, as well as tips for making the process seamless and avoiding any costly mistakes.
Before: Pre-Installation of a Workplace Safety Platform
The pre-installation phase is an essential part of the workplace safety platform deployment process. During this phase, our field operations team will work closely with you to ensure a smooth and successful installation.
We will begin by introducing our team and discussing the kickoff call with relevant staff and anyone on site who will be involved in the deployment. We will review the on-site deployment process and address any questions or concerns that you may have. Additionally, we'll coordinate travel and scheduling for deployment, finding a time that works best for you and your team.
We will also provide you with an on-site timeline, outlining how long the deployment will take and what to expect throughout the process. We'll coordinate with your on-site point of contact for a meeting time before our arrival and confirm that the product has arrived and is ready for installation.
Our goal throughout this phase is to ensure a clear and efficient deployment plan that meets your needs and expectations.
During: On-Site Arrival of an Installation Technician
To ensure a smooth installation process for both parties, it's important to establish clear expectations and have open communication channels. Our team will work with your designated point of contact to confirm details such as available rooms, access requirements, and testing protocols.


(Image: Example floor-plan of a hotel to identify layout of room types)
During our initial meeting, we will review the entire installation process and outline deliverables such as room lists, confirmation of vacant rooms, and identifying chaperones if needed for room access. We'll also ensure everyone is comfortable with the placement of beacons throughout the site and will hand over the product to a trained technician who will verify and audit all products delivered to the site. This ensures that we have all the necessary materials to complete the installation.
In summary, clear communication, careful planning, and attention to detail are critical for a successful workplace safety platform deployment. Our team will work closely with site supervisors to manage expectations and ensure a seamless installation process.
During: Installation of Bluetooth® Beacons
To ensure optimal coverage and accurate readings, we conduct testing before permanently setting the beacons in place. Once the beacon placements are finalized, we will confirm the location with the point of contact to ensure their satisfaction with the placement moving forward. Additionally, we test cellular coverage throughout the property to determine which carrier will work best for your location, if you choose the Cellular LTE Panic Button as your solution.
When it comes to deploying the beacons, our team has a clear process that starts with accessing the available vacant rooms. Then, we move onto the occupied rooms with a chaperone to ensure guest privacy. After that, we go through the do not disturb guest rooms with a chaperone and lastly, we cover common areas if you want to place beacons in those locations.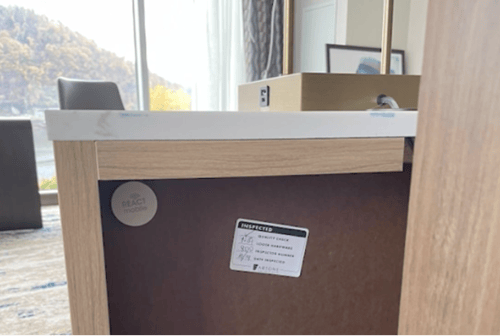 (Image: A discreet beacon placement behind a table without wiring or drilling)
Our Bluetooth® beacons are designed for easy installation with no hard wiring and no drilling required. We won't touch your infrastructure, making the installation process smooth and seamless.
Towards the end of the deployment, we can provide in-person training for you and your staff to ensure everyone is comfortable using the system. If we miss someone during the on-site training, we also offer remote training options.
After: Post-Installation and Training
After completing your installation and receiving on-site training, you will receive a comprehensive post-deployment email from our technician. This email will include details such as the number of beacons deployed, devices configured, and installation plans, as well as links to our knowledge base. Additionally, you'll be eligible for follow-up training sessions, health checks, and support, as well as future updates to our safety platform.
For ongoing support, you will be introduced to one of our dedicated client success managers who will be your main point of contact moving forward. They will be available to answer any questions you may have and ensure that the solution is meeting your expectations in terms of safety and efficiency.
At React Mobile, we believe in establishing a long-term relationship with our clients and providing continued support. Our team is committed to ensuring that your workplace safety platform remains effective and up to date.
Three Factors for a Successful Workplace Safety Installation
When implementing panic buttons in your hotel, there are a number of factors to consider ensuring a successful deployment. At React Mobile, our team focuses on three key areas: coverage, site survey, and feature set.
Coverage is a critical component of any panic button deployment. Our install team will identify optimal beacon placement locations to ensure that the entire space is covered. Additionally, we conduct LTE testing to identify the best carrier for your property and ensure you have adequate cellular coverage throughout.
Before installation, we recommend conducting a site survey to ensure that our platform is a viable solution for your property. Our team of experienced technicians will work closely with you to create an installation plan that meets your needs and expectations.
When selecting a panic button platform, it's crucial to choose a solution with a comprehensive feature set. Some key features to look for include silent alarms, verified response, instant activations, confidential operation, minimal footprint, extensive battery life, and ease of installation. At React Mobile, we offer all of these features, as well as a dedicated client success team and access to our knowledge base to provide ongoing support.
We believe that implementing panic buttons is an essential step in protecting your employees, your brand, and your business. If you are ready to learn more about a workplace safety platform or have additional questions about installation at your property, schedule a demo with us here.
--
The content is a summary of information presented by Dennis Calixterio, the Vice President of Field Operations and Quality Assurance at React Mobile, on the webcast, "Webcast: What to Expect During a Workplace Safety Platform Installation."