With Employee Safety Devices Compliance Deadlines Looming – Is Your Hotel Ready?
by Robb Monkman, on Sep 13, 2019 12:58:03 PM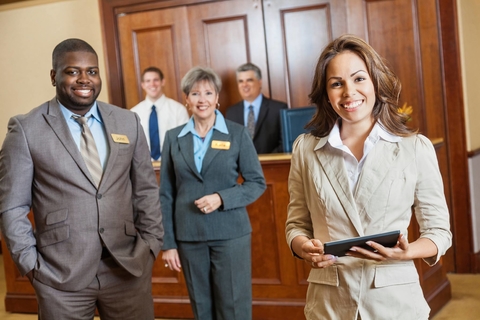 Since September of last year, the hospitality industry began a swift — albeit long-awaited — transition towards enhanced workplace safety. Building on decades of investments in safety and security, the American Hotel & Lodging Association (AHLA) and the major hotel brands in membership announced the 5-Star Promise, a pledge to provide hotel employees across the U.S. with employee safety devices (ESDs) and commit to enhanced policies, trainings and resources that together are aimed at enhancing hotel safety. Within an industry in which staff is frequently placed in vulnerable scenarios due to the nature of their work, the 5-Star Promise was welcomed by hoteliers and staff alike, united in their desire for higher safety standards.

Of course, change can't happen overnight. While the 5-Star Promise inspired the cooperation of over 24 hotel brands across the U.S, it also brought with it heightened legislative expectations amidst tight timelines. With so many hotel properties — over 18,000, to be exact — committed to the deployment of new safety standards (ESDs) by the end of 2020, the demand for panic buttons has reached a fever pitch.

In fact, if we do the math, 18,000 hotels and roughly 18 months means over 1,000 hotels will need to vet and select a panic button vendor and complete the install, each month. This is no small task, as hoteliers look to identify those vendors which can best support their brand with timely installation, a customizable solution, and on-going support. Why? Because in the world of technology vendors, not all partnerships are created equal — and the call for enhanced staff safety demands the continued support of a vendor dedicated to that cause, with the infrastructure to support it.
Establish Trust with an Established Process
As it relates to the installation of new technology, there are several factors for hoteliers to consider:
Does the platform offer easy integration, and can it seamlessly integrate with existing technology to create an enhanced operational stack?
Is the training process complicated, or user-friendly and intuitive?
How much time will it take to complete the installation?
Will it require continued, manual updates or upgrades?
Is there a responsive support team or process in place?
Does the vendor boast a portfolio of happy partnerships?
Remaining mindful of the encroaching deadline for panic button implementation as set forth by the AHLA, our team at React Mobile understands that a swift, seamless installation process is paramount. Fortunately, we've been developing and refining our process over many years, and we now find our integrated safety solution at an exciting turning-point — one in which we can positively impact the lives of so many hard-working hospitality employees.

For each installation, we employ a team of 1-3 dedicated 'installers,' depending on the size and scale of each property. Each installer can effectively work through up to 100 rooms per day, ensuring the swift deployment of panic buttons across hotel properties both big and small, in record time. Beyond the installation itself, our best in class safety platform is built into three tiers of service to deliver a customized solution for each hotels' unique needs. The mobile app can integrate directly — and without any headaches — into your existing management solutions to establish a fully integrated staff safety solution that works both on and off property, using precise GPS coordinates. Simply stated, the React panic button is far more than a button; it represents a dedicated safety network that not only ensures employee safety but can also provide operational excellence and additional revenue opportunities.
The Proof is in the Partnerships
Currently, React Mobile's portfolio boasts more panic button installations across hotels than any other provider, a momentum which we will continue to cultivate with unparalleled expertise and rapid implementation process. Beyond hospitality, we have over a large market presence of panic buttons deployed in the consumer and enterprise space, as well.
Recently, we had the pleasure of working alongside one of the largest hotels in the world. Following our installation, they praised React's team and process in equal measure. "React Mobile has established a process that truly makes for a seamless implementation. Each member of their team worked long hours to ensure the timely execution of the project and worked diligently to correct any issues that arose. We can only hope to work with another great vendor like React Mobile in the future."
"In my 20 years of HR, this was one of the most seamless implementations I have ever been involved in. The device is simple, the training is simple. If you're ever in an uncomfortable situation, you push a button."
– Las Vegas Casino Hotel Operations Director
It is our mindset that each vendor to client relationship is precisely that — a relationship and a partnership, one in which we intend to be there with you every step of the way with easy integration, user-friendly infrastructure and continued support. As we shift closer to the onset of 2020, our team is more ready than ever to rise to the demand for enhanced staff safety across countless leading hotels in the United States, and beyond.

When vetting prospective panic button technology, the actual technology is only one part of the equation; hoteliers are urged to consider the installation and availability of support with equal precedence. Staff safety has been the sole focus of React Mobile since its conception, and we are well equipped to work alongside hotels to help them meet current legislative demands with ease. After all, the pursuit of higher safety standards across the hospitality industry will only continue to evolve and React Mobile is positioned to carefully cultivate and support each partnership long into the future.
Learn more about How to Choose an Employee Safety Device Technology in our free guide:
---
About the Author

Robb Monkman is the founder and CEO, of React Mobile, Inc. With experience launching multiple products, from idea to exit, Robb previously headed up the sales and marketing of advanced communications solutions to the Department of Defense (DoD) and the Department of Homeland Security (DHS). Several years ago, Robb was the victim of an armed robbery and hostage situation that left a lasting impression on him. He soon learned that thousands of people every day were in situations where they desperately need help but couldn't make a call. He made it his mission to solve this problem, founding React Mobile to create a simple yet powerful personal safety platform that today is transforming the way people call for help in emergencies. React Mobile is making tomorrow a safer place and already helping people all over the world.