When It Comes to Employee Safety, 'Don't Wait' to React
by Robb Monkman, on Apr 27, 2021 9:34:59 AM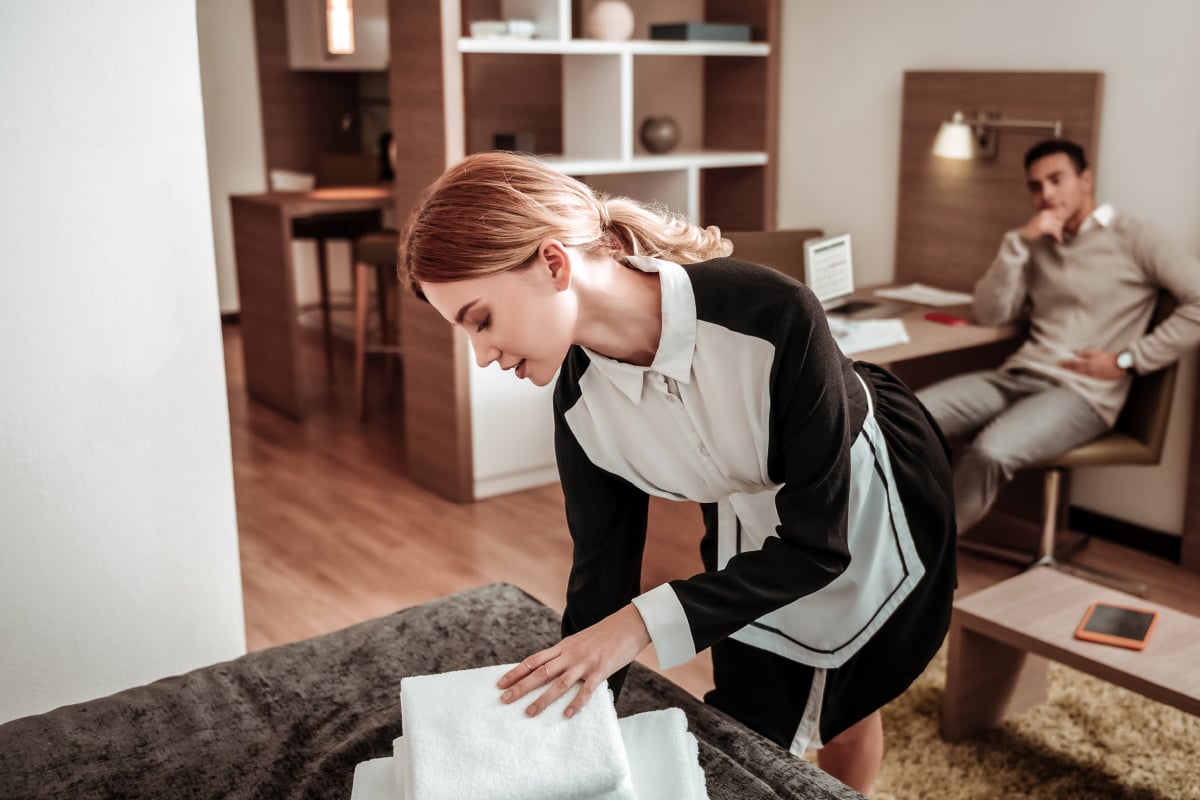 Hotels are opening and travelers are returning; Hotels must equip staff with employee safety devices to avoid potential safety risks

Summer is right around the corner, and with it comes hope of a rebounding hospitality industry. With people now vaccinated, properties now adopting enhanced cleaning policies, and social distancing practices and contactless technologies now in place, hoteliers are focusing on hiring and training employees. But finding help is not as easy as it used to be. Those struggling to get people back to work must do everything possible to ensure that the right security measures and safety technologies are in place to protect everyone against threats of violence and sexual harassment.

While we remain optimistic that business can only get better from this point on, we must not ignore the fact that criminals are still trespassing and breaking into hotel rooms. Over the last 45 days, crimes against hotel workers continue to make headlines: "Police Say Man Attacked Housekeeper at Strip Hotel, Committed Lewd Acts at 3 Others," "Cops: Man Attacks Motel Workers with Broom After Asking for Toilet Paper," "Husband Finds Wife Brutally Beaten in Venice Motel Room; Guest with Violent Past Charged with Murder," and "Man Faces Assault Charges after Allegedly Strangling Female Hotel Housekeeper."

In the hotel business especially, operators must be vigilant and always looking for signs of sex trafficking, drug trade, and mental illness. 8 out of 10 housekeepers report they have been assaulted in some way, whether verbally or physically. So, as properties reopen their doors — many of which will continue to operate with learner staff and therefore more employees will be working on floors alone — management must have the right protections in place, and that starts with transforming the way people call for help in emergencies by way of employee safety devices (ESDs).

At the 2021 ALHA Virtual Safety Summit this month, it was announced that nearly 60 hotel companies representing an estimated 20,000 hotel properties have made the pledge to equip their workers with employee safety devices by the end of 2022 as part of the AHLA's 5-Star Promise. This means that soon an estimated 1.2 million employees will be better protected on the job. Nearly all 20,000 hotels have implemented four of the five pillars of the AHLA pledge; the fifth pillar — to add ESDs — has been implemented at an estimated 5,000 hotels, and that number is growing exponentially month over month.

Our message to the remaining 15,000+ hotels that have yet to comply with the ALHA's 5-Star Promise is this: "Don't Wait."

As an approved vendor of panic button solutions to several hotels, React Mobile already has a back log of ESD installations on the pipeline, and there are just over 18 months remaining to equip these hotels with the technology needed to be compliant with brand commitments. This backlog will only continue to grow. We understand that properties are just beginning to reopen with slim budgets. But know this — the brand has already made a commitment to technology deployment, and therefore they will authorize adding EDSs to the budget. Waiting till the last minute not only puts the property at risk of noncompliance, and worse, it puts your people at a personal safety risk that can be avoided.

In 2020, at a time when occupancy was down and many hotels closed their doors, more than 250 hotels installed React Mobile state-of-the-art employee safety solution to place the well-being of employees above all else. As such, our annual recurring revenue grew by 40 percent. Today, React Mobile has more hotel deployments than any other vendor in the hospitality space, with 100,000+ rooms installed at some of the largest brands and hotels in the world. Even more impressive, no one on our installation team contracted COVID-19. We take the safety of our employees and our customers' employees and their guests very seriously. The recent $6 million round of funding from our strategic partner Brady Corp. (NYSE: BRC), combined with our new installation partnership with Best Buy for Business, and our new leadership hires has put React Mobile in an enviable position of stability and growth in 2021 and beyond.

For those concerned with bringing outside installers onto the property, remote training and configuration of the React Mobile safety solution can be provided. Many properties have opted to do the technology installations themselves or are working with our installer services teams at Best Buy to reduce the risk.

As we collectively work to reassure travelers that hotels are COVID clean and that they will be protected on the "Coronacation" they are longing for, it's critical that we cooperatively give the same assurances to staff — especially at hotels that are struggling to attract workers. When hotel management shows empathy, invests in its employees' personal safety, and acknowledges its social responsibility through industry initiatives, it has a positive impact on job retention. New candidates will be drawn to a property or brand for its integrity and social conscience, while existing employees will find it difficult to leave.

Don't Wait. It's time to react to your employee's safety concerns. No hotel can afford to put its employees at risk, and no one wants guests coming to the rescue. By simply pressing a panic button worn by an employee, security teams can be summoned and dispatched instantly to respond to the emergency.