What's Wrong with the Traditional Hotel Panic Button?
by Robb Monkman, on Mar 27, 2019 12:39:24 PM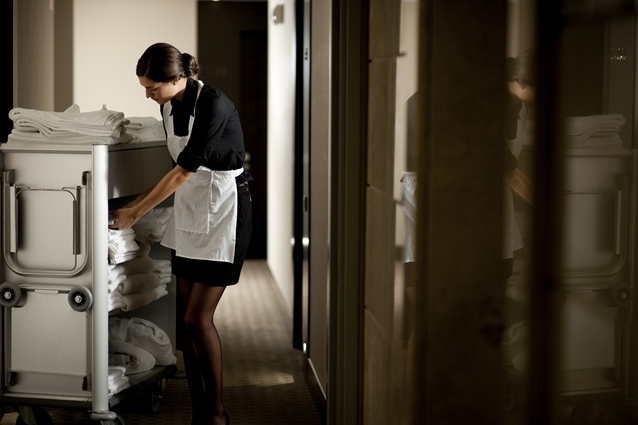 They're often alone on a floor, cleaning a vacant room, back to the door, the vacuum's loud drone silencing all sound. A perfect setup for a horror movie.
Housekeepers perform the most physically demanding work necessary to operate a luxury hotel. Assigned 10 to 14 rooms a day on average, they strip beds, dump sheets down laundry chutes, remake beds, scrub bathroom floors, clean tubs and toilets, empty trash, polish mirrors, clean glasses, vacuum carpets - and the work does not end there.
On top of that, they have to be sexually accosted by guests? Sadly, yes. And more often than you'd think.
These words lined the beginning of a New York Times article,Behind Closed, Sequentially Numbered Doors, penned by Jacob Tomsky, which detailed the commonly under-reported risk assumed by hotel staff, especially housekeepers.

The hospitality industry has been and continues to be, built upon the provision of incredible, guest-centric service, at every opportunity. Hospitality staff work tirelessly around the clock to understand and anticipate the unique needs and expectations of each guest, ensuring they leave a hotel property with a lasting, positive impression. Day in and day out, hoteliers and their staff make it their utmost responsibility to cater to each guest and provide them with a home away from home – one that offers every comfort, luxury, and convenience that one expects.

It is within this guest-centric model, that staff safety can (even unknowingly and unintentionally) take a back seat. It is also within this model that the weight of guest opinion can wrongfully supersede the well-being and treatment of hotel workers.
Identifying the Problem
With these realizations in mind, it becomes no surprise that the hospitality industry – which is also plagued with notoriously high staff turn-over rates – also falls victim to an alarming rate of workplace safety issues. In fact, a recent survey in Chicago shows that 58% of all hotel workers there have experienced sexual harassment by guests and 9 out of 10 hospitality workers say they have suffered abuse. Further, in a 2014 paper in the journal Gender, Work & Organization, a team of researchers interviewed female hotel workers employed by 5-star hotels on the Gold Coast, a city in Queensland. Of the 46 women who participated in the study, 44 had experienced some kind of inappropriate advance from a guest. From assault and harassment to abuse or injury, sweeping guest indiscretions under the rug for the sake of client satisfaction and public reputation had become something of a painful tradition in hospitality.

Luckily, that tradition has finally come to a grinding halt.

On September 6th, 2018, the CEOs of Hilton, Hyatt, InterContinental Hotels Group, Marriott, and Wyndham joined the American Hotel & Lodging Association (AHLA) in announcing the 5-Star Promise. This included a pledge to provide hotel employees with safety devices – ensuring hotels are proactive and demonstrative in their efforts to prevent and police harassment towards workers. This promise has led countless properties to their search for solutions and practices to create a more secure workplace for every employee, which brings us to the hotel panic button.

Until recently, most hotel panic buttons have been known as 'noise-makers' – handheld devices which emit an audible alert/noise to signal an incident or threat. While these were, undoubtedly, a good initial step in the right direction, we arrived at a resounding issue: The size and complexity associated with modern hotel infrastructure call for more robust hotel technology and support platforms – and employee safety devices are no exception.
The Key to a Safer Workplace? The Next Generation Hotel Panic Button
Considering the size and scale of many hotel properties, especially those of the luxury travel segment (as cases of assault tend to be more prevalent in those environments), outdated noise-makers are no longer a suitable solution. If a staff member experiences a medical emergency or impending threat behind the closed door of a room within a multi-level hotel and support is not within range to hear that signal, the old-school panic button simply cannot effectively protect the user. Not only that, but some instances may require a more discrete alert system, to further protect the immediate well-being of the user and ensure the perpetrator doesn't act out in response to the alert. This brings us to the modern employee safety device, one which is better equipped to serve and protect hotel staff, throughout any emergency.

So, what does the next generation hotel panic button look like? We're glad you asked.

Today's hotel panic button should be more than just an app or a noise-maker; rather, it should be a dedicated safety platform that is configurable and customizable to the unique demands of each individual hotel. Our best-in-class hospitality safety platform is cloud-based, easy to use and integrates seamlessly with a hotel's existing property management software to provide location-based alerts in the event of an emergency. In a crisis scenario, hotel staff can press their sidekick panic button, which is paired with a smart device via Bluetooth, to transmit an SOS signal. Utilizing Bluetooth beacons placed throughout the property, support staff can immediately identify the precise room location of an incident to respond in a faster, more effective manner. Those staff members who do not have a smartphone can rely on a standalone LTE panic button which transmits the same, location-specific information to help hoteliers locate an employee within seconds of a distress call.

Outside of the hotel, the system relies on GPS coordinates to follow an incident in real time, relaying that information back to support services while also maintaining a digital log of all distress reports and incidents. This technology not only helps to provide immediate response in emergency situations but equips hotels with the software they need to better track and report staff-related incidents and concerns.

It is an exciting time to be part of the hospitality industry with the continued evolution of innovative new technology platforms that, not only transform the guest experience, but also work to ensure the safety of employees. After all, as businesses that are centered on serving the public, no issue should be more critical or top of mind for hotels than the security of guests and staff members alike. With improved measures, and the right safety technology in place, hotel personnel can approach their work with new-found peace-of-mind – and that is precisely what the industry's important new movement, the 5-Star Promise, was created to achieve.
Learn more about Why Panic Buttons are the #1 Safety Technology for Hotels in our free eBook:
---
About the Author

Robb Monkman is the founder and CEO, of React Mobile, Inc. With experience launching multiple products, from idea to exit, Robb previously headed up the sales and marketing of advanced communications solutions to the Department of Defense (DoD) and the Department of Homeland Security (DHS). Several years ago, Robb was the victim of an armed robbery and hostage situation that left a lasting impression on him. He soon learned that thousands of people every day were in situations where they desperately need help but couldn't make a call. He made it his mission to solve this problem, founding React Mobile to create a simple yet powerful personal safety platform that today is transforming the way people call for help in emergencies. React Mobile is making tomorrow a safer place and already helping people all over the world.