Using Hotel Technology To Promote Employee Safety
by Aileen Jiménez, on Dec 9, 2020 10:28:26 AM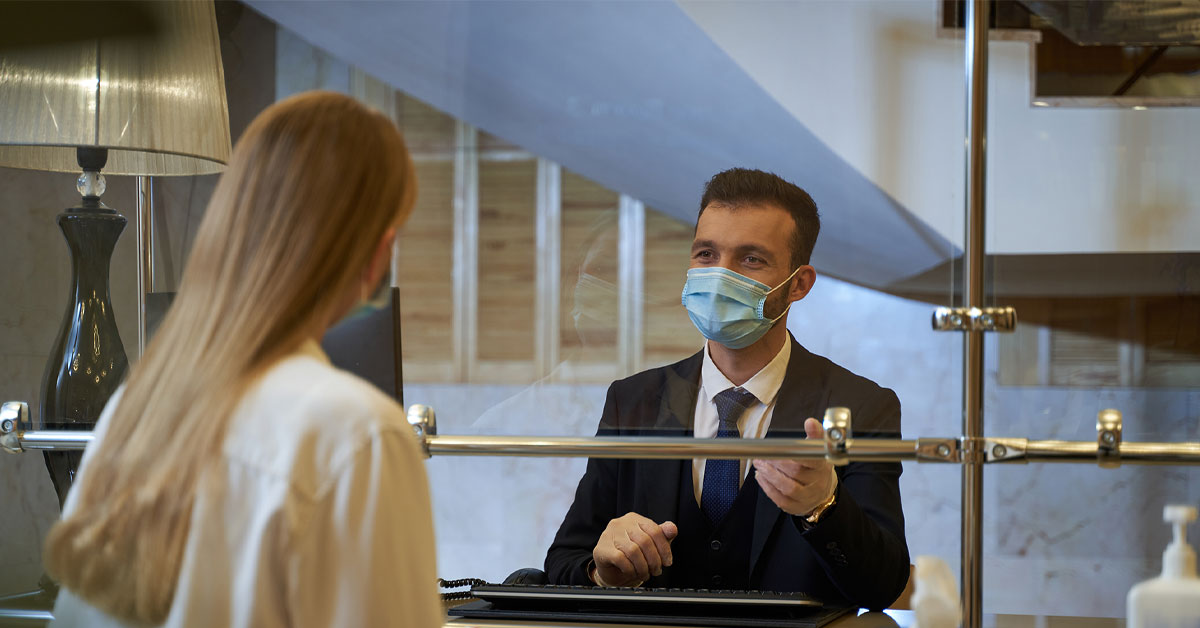 As 2020 comes to a close, a year that has thrown curveball after curveball at the hospitality industry, the need to keep staff and guests safe has become a top priority for hoteliers. Prioritizing the need to provide a safe environment, and be able to prove that it is safe to staff and guests, will have a lasting impact on hotel management, operational teams, and employees.
Safety is a basic human need, under which health and well-being exist. The ability for a hotel to provide a safe environment for its guests hinges on the ability for a hotel to provide a safe work environment for its employees.
Hotel guests trust that when they arrive at a hotel the locks on their doors work, and that there are evacuation security protocols in place. They are also expecting that their guest rooms have been cleaned, sanitized and organized to prevent the spread and transmission of COVID-19.
Hotel staff arrive at their jobs trusting that their employers are also doing everything they can to keep them safe. For employees this means having the proper personal protective equipment, processes, and tools to get their jobs done safely. At the end of the day, peace of mind is more than having streamlined tasks and operations, it's knowing somebody has your back when it comes to your personal health and safety.
Here are the top three ways hoteliers can leverage hospitality technology to help keep employees in the hotel industry safe:
Leverage operations technology
At a high-level, hotel operations technology streamlines communication and task-management for hotel departments. It builds efficiency, provides supervisors and management teams with data points to track departmental trends and progress. But operational software also has an employee safety component.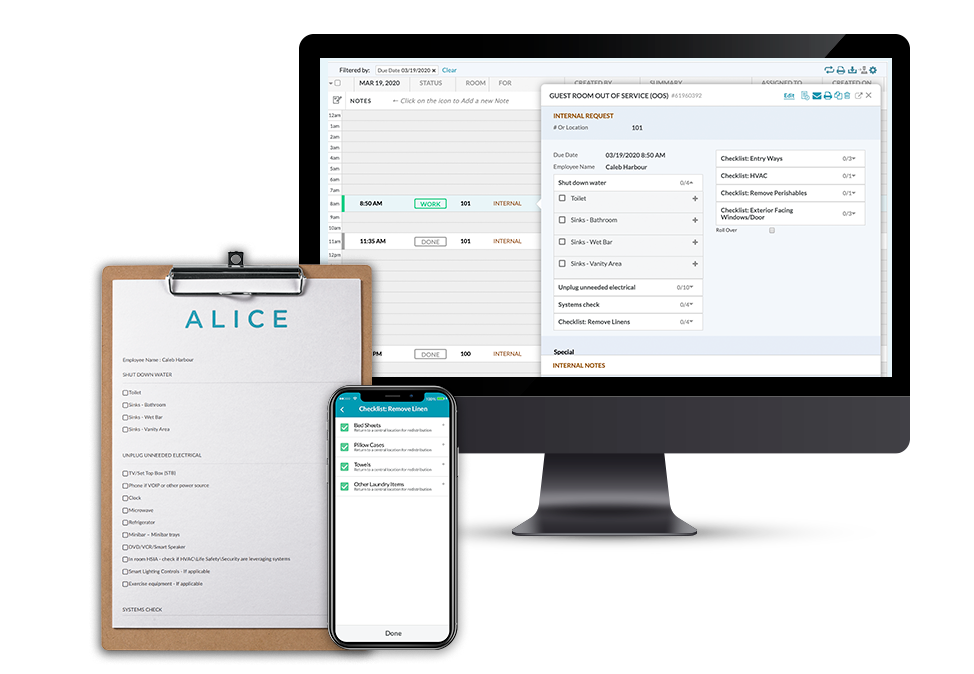 Checklists that exist within operational software can provide reminders, and lists of tasks for employees. With new COVID-19 related standard operating procedures (SOPs) for cleaning and sanitizing, reminders are helpful. Remembering new SOPs can be difficult, especially if you've been operating a specific way for many years. For room attendants, reminders can also be programmed to prompt users to remember specific PPE for different tasks, or that there is a maximum number of people allowed in a specific space at a time.
Housekeeping software also enables managers and supervisors to track the progress of room attendants as each action they take within their mobile app is tracked. This prevents room attendants and supervisors from crossing paths
Using preventative maintenance software at a property allows for engineering teams to catch problems and identify any malfunctioning equipment before someone gets hurt. HVAC systems, boilers, laundry machines, and kitchen equipment must be regularly maintained to ensure that it is working properly.
The breakdown of a large piece of equipment isn't just a capital expense, it can be a major occupational safety and health hazard. Software can be used to track regular maintenance and meter readings.
Provide staff with panic buttons
We've been waiting a long time for the internet of things. It is a future where everything is connected and the digitalization of the hotel begins to touch everything - the room, the staff, the guest. The panic button is an early and potent manifestation of the idea that we are safer, better off and more a community when we are connected.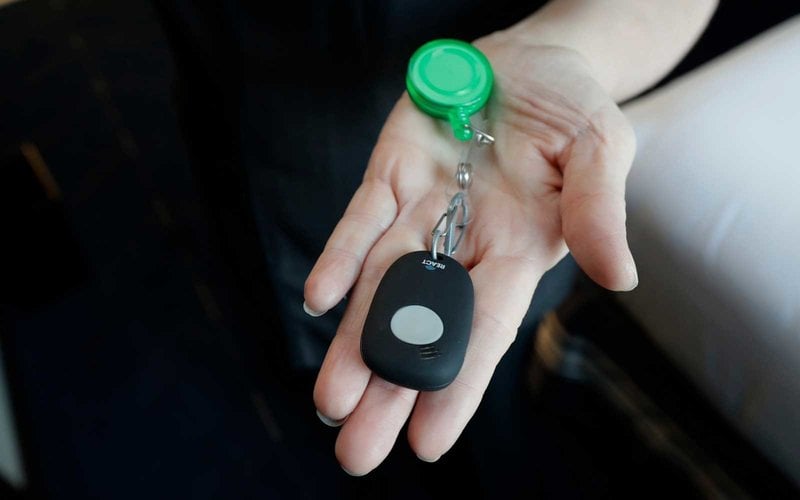 Panic buttons provide an immense sense of safety and security for hotel employees. Having them available, and working properly in case of an emergency, provides peace of mind knowing that they are available, and promote the physical safety and well-being of hotel employees.
As an Assistant Director of Housekeeping several years ago, I witnessed first-hand the use of a panic button. I couldn't have been more pleased with the response and its ability to protect a room attendant. The safety of all hotel employees, but especially room attendants, is of the utmost importance.
With panic buttons, room attendants can communicate instantly if they find themselves in moments where they require immediate assistance, as was the case for one of my colleagues several years ago. Without hotel technology, the real time response at my hotel would have taken much longer, putting a colleague in further danger.
Implement contactless technology solutions for staff and guests
Implementing contactless technology solutions for guests and staff can help keep everyone safe during a time when it is encouraged to minimize face to face contact. Guest messaging tools enable guests to connect with staff on their mobile devices, to ask questions, ask for recommendations, or request services.
The popularity of mobile check-in and keyless devices has also risen in recent months. With mobile check and check out, staff are still available to answer questions and provide assistance, but with more distance, and on the guests' terms. Mobile technology not only enhances the guest experience, but it also limits the exchange of physical contact, touch points and face to face interaction with guests.
Reducing the amount of staff to guest contact is just as important as reducing the amount of staff to staff contact. Software with mobile functionality allows teams to communicate progress, and adapt to mid-shift changes, while reducing the number of in-person interactions.
Staff members no longer need to see each other in person to receive physical assets such as a list of rooms to be cleaned or inspection checklists. Mobile housekeeping software is critical for keeping staff and guests safe, and ensuring your hotel delivers a contactless guest experience.
Hotel technology will continues to incorporate employee safety
As hotel technology continues to evolve, there will be very few pieces of software that don't have a safety component, whether directly, or indirectly. Workplace safety and health is important in the hotel industry, and technology can have a direct impact on it.
Interested in learning more about how ALICE's hotel operations software can help keep your employees safe? Schedule a demo today!
About the Author:
Aileen Jiménez is originally from Coahuila, Mexico, was raised in South Texas, and currently calls Denver, CO home. She started at ALICE with an extensive hospitality background in hotel operations and rooms division. Aileen has worked with hundreds of the world's top hotels, traveling to more than 15 countries to implement technology at properties to revolutionize operations and teams. Aileen is a part of the Customer Success and Product teams at ALICE and is passionate about empowering hoteliers with technology.