React Mobile vs Other Workplace Panic Button Solution for Hotels
by Jiun Wang, on Nov 19, 2020 12:15:01 PM

Your decision to protect your employees by providing them with a workplace panic button will create a better safety culture and allow for a faster way to call for help. When searching for a workplace panic button for your employees, you will find several solutions available on the market. To simplify your research, we have outlined the differences between React Mobile and other panic button solutions in this article.
Table of Contents
Highlights of React Mobile's Panic Button Solution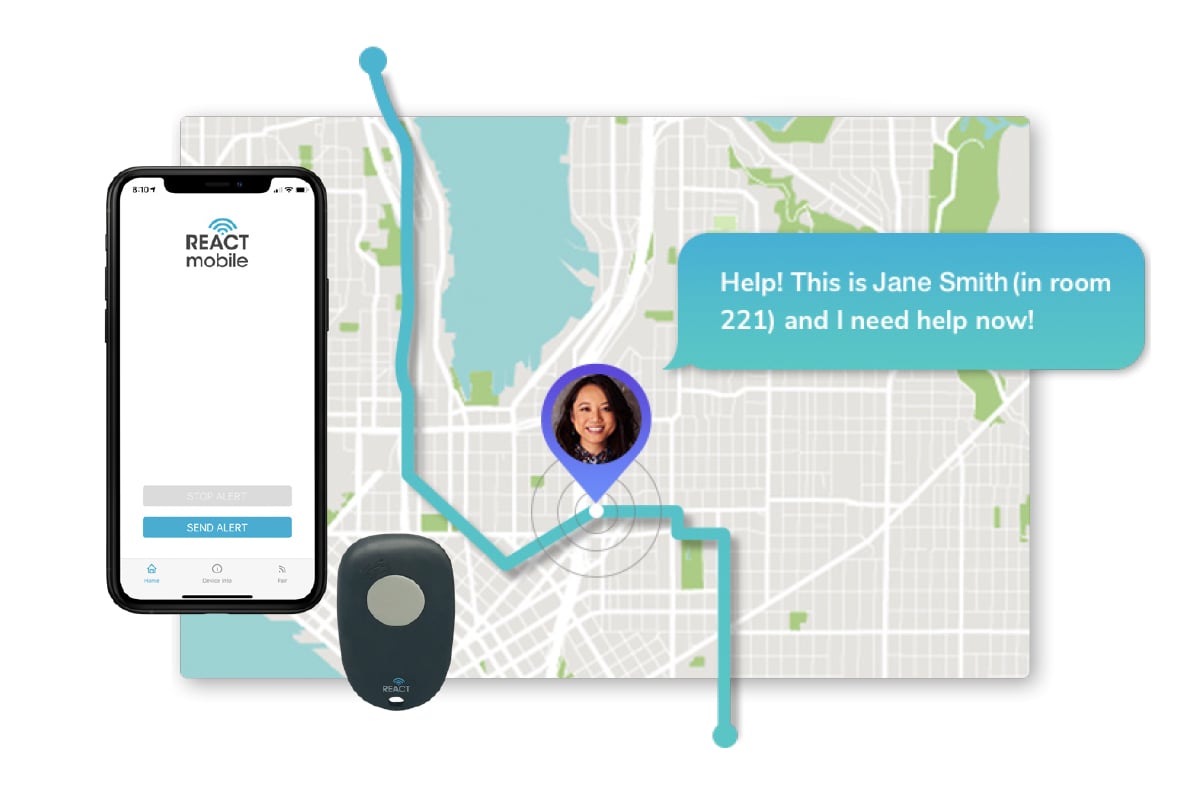 The React Mobile safety solutions help you maintain a safe workplace by providing your employees with an easy-to-use device that will give precise room location details when activated. With over 460+ Customers and 50,000+ Panic Buttons deployed in the world, here are a few of our key highlights that makes our customers happy:
Simple to use with minimal training.

Quick to install on your property; average 100 beacons a day for each technician

User-friendly solution, using battery-powered hardware. No drilling. No IT gateway or servers. No wires.

Cost-effective enterprise solution.

Integrate with leading hotel technology and infrastructure. See our

Partners page

for the full list.

Flexible safety platform for small and large properties.

24/7 Support, Knowledge Base, and dedicated customer service account manager.

Received a $6M investor funding in 2020 for continued growth.
Comparison to Other Solutions and their Differences
There are a wide variety of available workplace panic buttons solutions that visually look different, have more or less functionality, and may change your hotel room's aesthetic. For managers, operators, and security leads at hotels, it is essential to understand the other solutions and how they are different to make the best decision to create a safer workplace culture.
We will focus on four main questions:
What is the installation timeline?

How is the panic button alert activated?

How is the location information defined?

What types of notifications are sent to emergency contacts?
What is the Installation Timeline?
React Mobile: The technician will arrive on-site and proceed with testing in a 3x3 block of room to ensure the solution will provide room-level location accuracy. After testing is complete, each beacon is quickly installed in a room in a matter of a minute. On average, one technician can install 100 beacons per day at a property*. The property receives documentation with photographs of the beacon placements and IDs for records. At the end of the installation process, the technician will provide complimentary training.

*The statistic, 100 beacons per/day for one technician is an average, and other variables may impact the speed of installation such as limited hotel property access.


Other Solutions: The installation timeline for other solutions may take multiple days and more than one technician, which will increase costs. The longer installation process is often caused by complex solutions that require the installation of IT gateways and servers throughout the property. There are also solutions where electrical boxes access or rooftop access is needed to complete a panic button solution installation, which may cause other issues down the road.
How is the Panic Button Alert Activated?
React Mobile: One quick push to activate the alert. The activation is silent, and an LED light will indicate the active alert status. The button is designed to be silent for the safety and discreet use of the employee.
Other Solutions: One push to activate, then a second push to confirm the alert. There are also button types where you must squeeze two buttons at the same time to activate the alert. Some other solutions will flash, make loud noises, and give haptic feedback, which will likely reduce the device's battery life and longevity.
How is the Location Information Defined?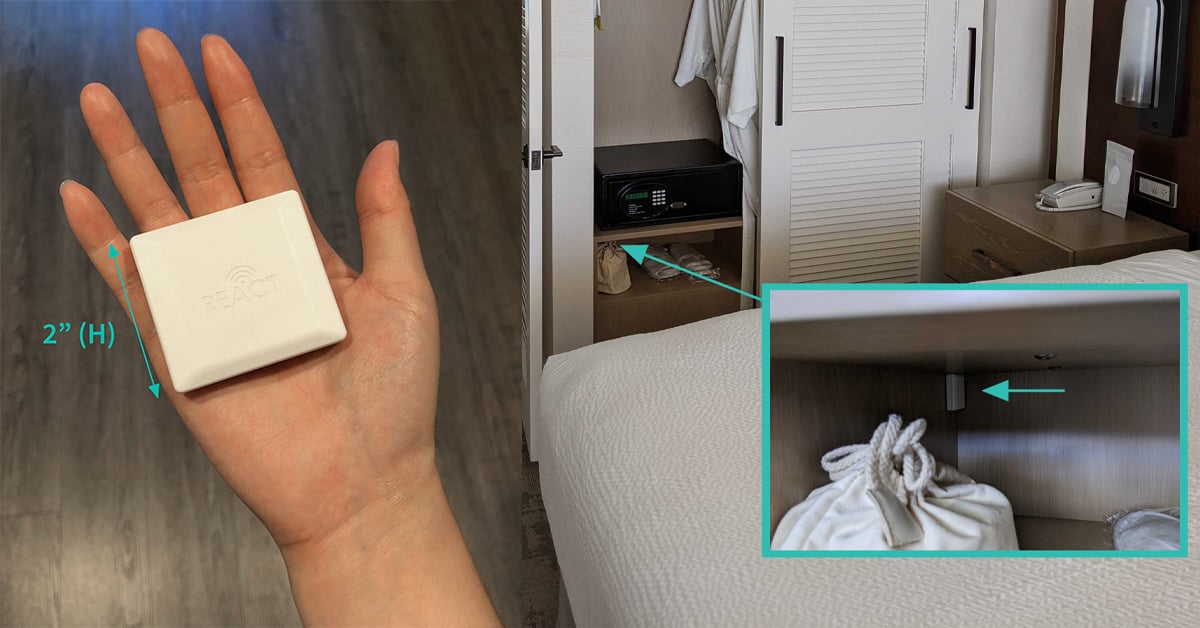 React Mobile: Small square (2 x2 inch) Bluetooth Beacons adhere to a hidden space inside each room (e.g., inside a closet, under the sink, underside of a shelf) where the battery lasts up to 7 years before replacement. When a panic button is activated, it will identify the precise room level beacon data to a Dispatch Center console. Your security team can see the alert details and push the automatic notifications to all on-site emergency contacts. If the employee who activated the button moves within the hotel, the location will automatically update with the detail to provide real-time location of where they need help.
Other Solutions: For location information, bulky and unappealing 'gateway' hardware are plugged into an outlet in the room to function. Some gateways are installed in every other room, and that may provide inaccurate room-level detail when a panic button is activated on a hotel room floor. You may also encounter other solutions where they will want to install hardware on your rooftop or electrical box that may require drilling, wiring, and different server related add-ons. When the panic button is activated, it will find the closet signal and send the location data to either an App or Emergency Console, which may automatically push out notifications. Most solutions will provide real-time location data, but there is a time delay of the location update and accuracy factors to consider.
What Types of Notifications are Sent to Emergency Contacts?
React Mobile: Within seconds of an activated alert, emergency contacts will receive either a text message, email, or both. There will also be a browser notification on the browser of the Dispatch Center and a screen alert. You can assign an unlimited number of emergency contacts to receive notifications.
Other Solutions: Identified emergency contacts may receive a text message, email, and other forms of alerts on their dedicated software app/program. The time it takes for an activated alert to notify emergency contacts varies per solution. It's best to request a demo of the solution to see a live demonstration and speed of the alert notification process.
Reaching Out to Learn More About Panic Buttons
It can take a little time to evaluate all the different workplace panic buttons solutions and decide on one that is best suited for your hotel property. If this technology is new to you as a hotelier, we recommended checking out the HTNG Staff Alert Device Buyer's Guide to determine the right questions to ask when embarking on a search and selection process for safety devices. We would also be happy to jump on a quick 30-minute demo to show you the hardware and software involved and provide a live demonstration of how it works.