Mitigating Workplace Dangers with an Employee Panic Button Platform
by Jiun Wang, on Dec 5, 2022 9:15:00 AM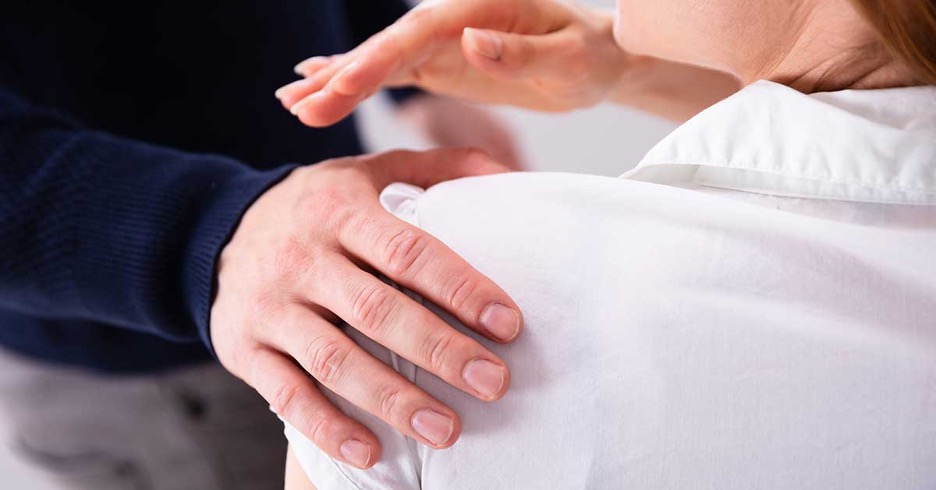 According to the U.S. Bureau of Labor Statistics, the leisure and hospitality group has a record of work-related fatalities, injuries, and illnesses. In 2020, about 3 out of 100 full-time workers were subject to a nonfatal work injury in the accommodation and food services industry, often requiring days away from work. With the current national employment estimate of 140,000 people working in leisure and hospitality, we can predict that 4,200 people may fall victim to workplace dangers.
Accidents in the workplace can happen but mitigating common dangers can ensure that your employees will stay safer or prevent a worse situation.
Why Working in a Hotel Can be Dangerous
Many people work in a hotel, but the most vulnerable are typically the housekeepers who clean, on average, 13-15 rooms a day within one shift. Housekeepers are assigned rooms to clean, often working alone with a door propped open behind them as they inspect, clean, and prep the room for a guest. Unfortunately, there are too many incidents that force housekeeping into unwanted and dangerous situations, some examples being:
Sexual harassment

Indecent exposure

Physical assault

Medical emergency (e.g., heart attack, trouble breathing, sprain)
What Housekeepers are Saying
In 2016, a Chicago hospitality union released a survey of 500 women working in hotels, confirming that 59% faced sexual harassment and 49% experienced indecent exposure from guests. Beyond the guests, sometimes housekeepers are sadly even treated poorly by other workers or managers.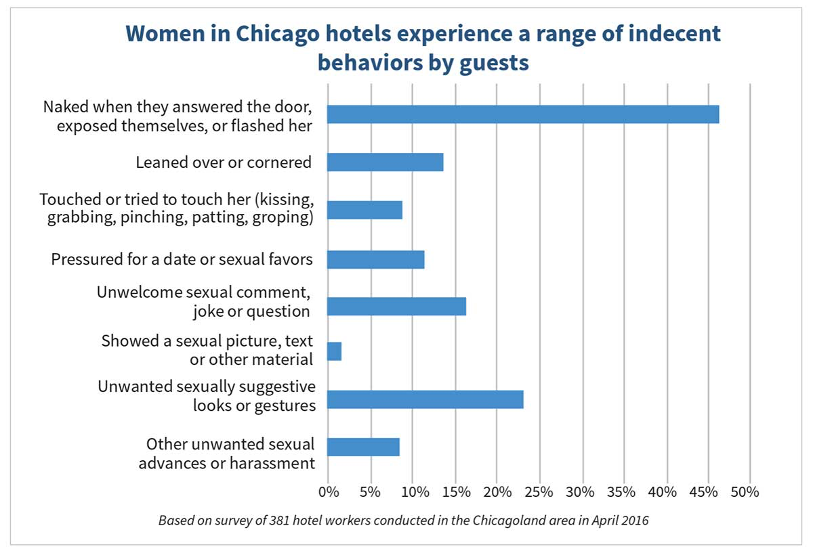 (Image: Chart from the Hand Off Pants On Report by Unite Here Local 1)
Here are some examples of reported workplace dangers:
Unwanted physical contact and assault – A guest sneaks up and forcefully touches or hugs a housekeeper while working. It becomes a scary situation for a housekeeper, not knowing if the guest will do something worse.
Verbal Harassment – Being mocked at or receiving sexually explicit comments repeatedly, including threats from guests or a co-worker who causes a housekeeper to quit out of fear for her own safety.
Soliciting sexual favors for money – A guest treating a housekeeper poorly and trying to offer her money for sexual favors, even if a joke, creates an uncomfortable workplace and increases the risk of danger.
Indecent Exposure – Staff members are confronted by a naked or exposed guest when providing room service or food delivery to their room. The situation is uncomfortable, and it is difficult to predict what may happen next.
Methods to Mitigate Workplace Dangers
Nobody wants to come to work where they feel they cannot rely on anyone else to protect them in a dangerous situation. To improve safety and mitigate workplace dangers from the apparent risks of working in isolation in guest rooms, hotel leaders can consider changes in the workplace. The method of change to mitigate workplace danger can be in policy by always having two housekeepers work on cleaning rooms on the same floor - but due to the labor shortage, it may not be possible with the available personnel. A second method would be to provide housekeepers and additional staff members working in isolation with a hotel panic button device to summon help to their exact location during an emergency.
Industry Initiatives Focused on Safety
The hospitality industry has been focusing more on workplace safety in the past few years. There are leading associations groups, such as the American Hotel & Lodging Association ("AHLA"), that have started campaigns to improve workplace safety and security, one of them being the "5-Star Promise," which launched in 2018.
Using an Employee Panic Button Platform for Safety
In the past, some housekeepers may be familiar with a traditional type of panic button device, also known as a noisemaker device, that only emits a loud sound when activated during an emergency. A housekeeper working alone on a floor has a low chance of anyone hearing that noise, and it may even cause unwanted alarm and disruption to nearby guests.
Modern employee panic button platforms have hardware and software built specifically for people working in multi-floor buildings. The technology allows a person to quickly and silently activate a panic button to summon help to their exact room-level location. The silent activation prevents a threat from worsening and mitigates any guest from interacting with a dangerous or uncomfortable situation.
How it Works
An employee panic button platform, also known as an employee workplace safety platform, consists of hardware and software to help protect people who often work alone.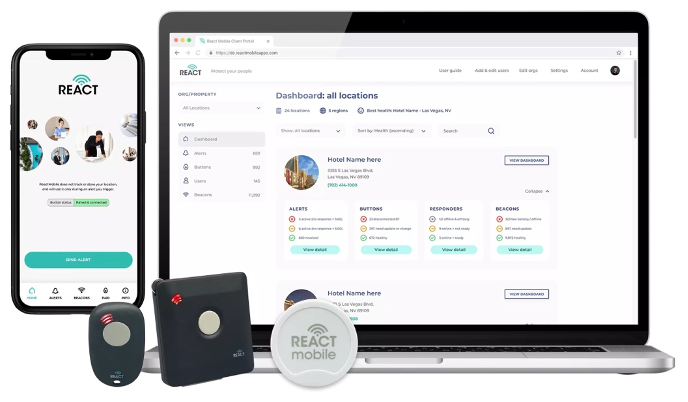 The hardware is usually a small portable panic button device that attaches to a keychain or lanyard for easy access for activation during an emergency. The panic button will have a trigger that is often a button to push and have LED lights to indicate that it is active, and help is on the way. The primary software is a dashboard for the property administrators to use to manage and configure the employee panic button platform. In the dashboard, administrators can view and assign hardware to employees and view the battery and signal levels to ensure good reliability and functionality. A companion phone application is often downloaded from the app store, allowing the response team to receive and resolve incident alerts quickly.
When an employee is in a situation where they feel in danger, they can immediately press and activate a panic button. Once activated, the device will communicate with the platform and identify the location through Bluetooth beacon technology or other location-data inputs. Within seconds, the employee device ID and location information are sent to designated security personnel to respond to the alert. The security personnel will confirm that they are responding to an alert through the platform to help coordinate with other security personnel if there are multiple activated alerts.
Get Started on Improving Employee Safety with Panic Buttons
More and more leaders understand the gravity of employee safety when working in a hotel. Dozens of hotel brands and management companies have publicly committed to improving the safety and security of their employees. Multiple local and state governments in the United States have also passed legislation that requires hotel employers to provide their employees with panic buttons to mitigate dangers like sexual harassment.
The most important asset of a hotel is the people and improving their safety with a panic button is an investment that helps make the world a safer place.
By scheduling a demo with React Mobile, you can learn about employee panic buttons and how it can work at your property.