The Importance of Hotel Staff Safety Technology During and Post-Pandemic
by Robb Monkman, on May 22, 2020 9:14:04 AM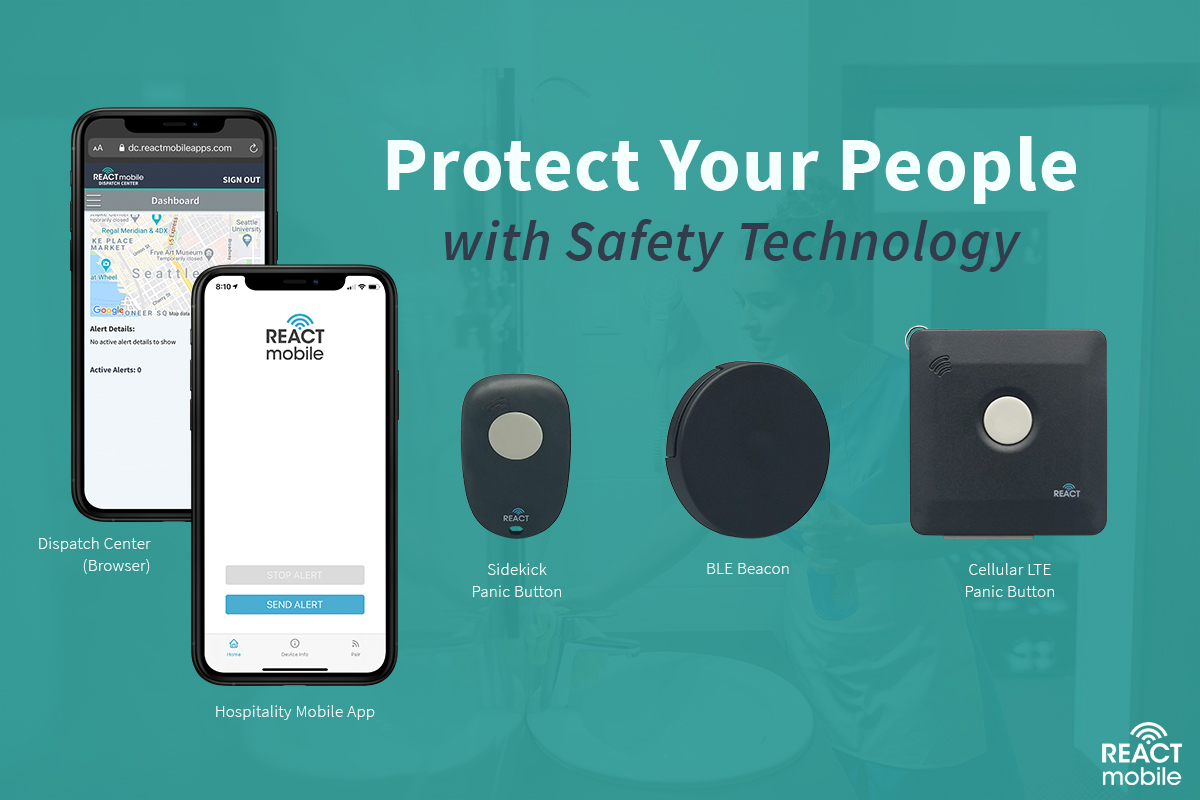 There is, perhaps, no greater fear than to find yourself in desperate need of help — but with no way to call for help. It is a concern that plagues countless individuals and industries, depending on the risks associated with any given job or position, but one which is felt notably by hospitality workers. A hotel room is not merely a place for guests to relax and unwind; it's also an incredibly vulnerable environment for hospitality staff who often perform the duties of their job alone. Hotel workers are an especially vulnerable group.
The discussion of hospitality staff safety has gained significant momentum, as workers from hotels around the world have come forward with cautionary stories of workplace injury, guest misconduct, or harassment. Nationwide, hotels have committed to enhancing policies, training, and resources, including the implementation of employee safety devices (ESDs). But now, as the industry finds itself amid a global pandemic, hoteliers realize that the call for enhanced safety has only increased in volume.
The path to recovery now includes ensuring the security of staff and guests, and many properties are using this downtime to make sure they comply with the deployment of personal alert systems, also known as panic buttons.
Next-Generation Panic Buttons
Over the years, ESDs have come a long way, and for the better part of a decade, React Mobile has been a leader in developing next-generation safety platforms for hotels. Trusted by some of the world's most well-known brands, the devices are intuitive, require little training, and easily integrated with existing hotel systems. React solutions have even gone through, and successfully passed, stringent risk assessments for device certification at major brands, including Hilton and Caesar's.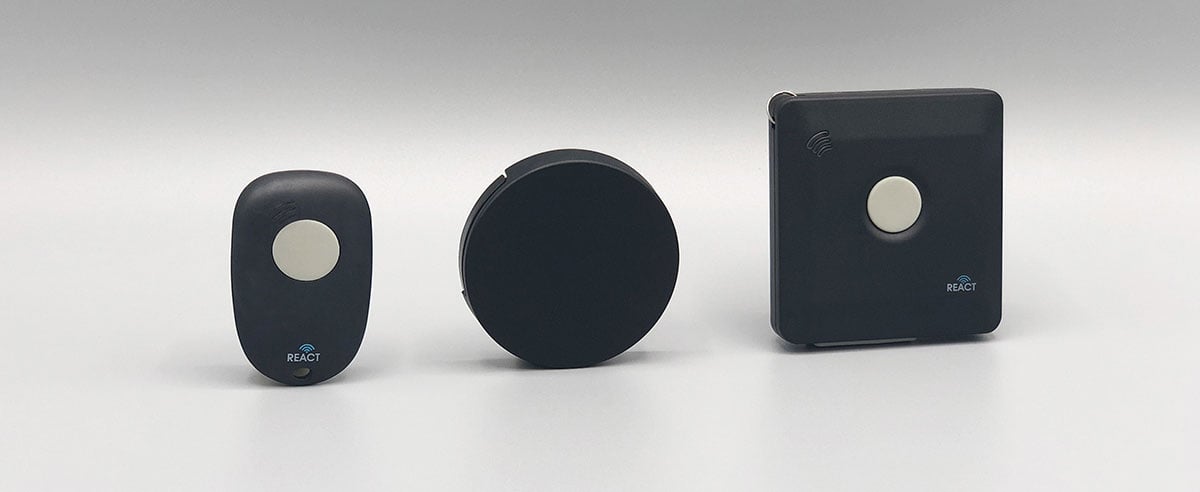 (Left to Right: Sidekick Panic Button, BLE 5.0 Beacon, and the Stand-Alone LTE Device)
The company has recently launched three new products, the Sidekick, the Stand-Alone Cellular LTE Panic Button, and the BLE 5.0 Beacon. The Stand-Alone LTE device offers hotels an all-in-one solution capable of protecting employees both on and off property without the need for a tethered smart device. The Sidekick, on the other hand, is designed to pair with company-issued mobile devices to provide a truly seamless safety solution for the mobile workforce. And lastly, the BLE beacon device is a discreet, easy to conceal device that allows our safety platform to deliver precise room level location accuracy indoors in multi-story buildings.
Here's how the technology works.
In a crisis scenario, hotel staff can press their React Mobile Sidekick panic button to transmit an SOS signal. Easily paired with company-issued mobile devices, the discreet wearable device ensures workers can quickly alert for help anytime and anywhere, making personal safety accessible at the touch of a button. Utilizing Bluetooth beacons placed throughout the property, support staff can immediately identify the precise location of an incident. To address the longevity demands of a workforce that often performs their duties alone, the Sidekick is small, lightweight, and is capable of long-life expectations that far exceed standards. Made from hardened military-grade plastics for durability, the device is highly shock resistant.
Those staff members who do not have a smartphone can rely on a Stand-alone LTE panic button, which transmits the same, location-specific information. The Stand-Alone LTE does not need a paired mobile device, is capable of connecting to any available cellular network, and is compatible with third-party hardware. The stand-alone safety device uses 4G networks using LTE-M (LTE CAT-M1), which means better reliability and lower service costs for hoteliers.
Outside of the hotel, the system relies on GPS coordinates to follow an incident in real-time, relaying that information back to support services while also maintaining a digital log of all distress reports and incidents. This technology not only helps to provide immediate response in unpredictable situations - but also equips hotels with the software they need to better track and report staff-related incidents and concerns.
The BLE 5.0 Beacon provides incredibly precise location information even within a high-rise building. When an employee safety device (ESD) is activated, the device identifies the closest BLE beacon. It then reports the precise room number and GPS coordinates, to React Mobile's safety platform. The beacon consists of an ABS housing and PCBA mounted into an internal structure, which allows for the use of an accelerometer, should it be necessary to determine orientation along the XYZ cartesian plane.
Adapting to the New Normal
Although prospective guests will surely be eager to resume their plans to travel, travelers may, understandably, be on edge. And while hotels, casinos, and restaurants have always been expected to uphold incredibly high standards of cleanliness, hoteliers can expect those best practices to face unparalleled scrutiny in a post-pandemic world.
To remedy any concerns, hotel properties will be expected to adopt frequent and stringent disinfection measures of guest rooms and public areas, with some staff members dedicated solely to the upkeep of new protocols.
With this in mind, the housekeeping department and other employees will be more integral to successful operations than ever before. Ultimately, workers should feel confident, and with the peace of mind of knowing that help is just a click away, they can focus on creating a clean, safe, and inviting atmosphere for guests, each and every stay.
Learn more about Why Panic Buttons are the #1 Safety Technology in Hospitality in our free eBook:
About the Author

Robb Monkman is the Founder and CEO of React Mobile, Inc. A seasoned entrepreneur with experience launching multiple products, from idea to exit. Several years ago, Robb was the victim of an armed robbery and hostage situation that left a lasting impression on him. He soon learned that thousands of people every day were in situations where they desperately need help but couldn't make a call. He made it his mission to solve this problem, founding React Mobile to create a simple yet powerful personal safety platform that today is transforming the way people call for help in emergencies. React Mobile is making tomorrow a safer place and already helping people all over the world.

About React Mobile
Founded in 2013, React Mobile is a global leader in providing panic button solutions for hotels. Their best in class hospitality safety platform helps hotels keep their employees safe. The React Mobile system allows management to deploy response resources to the exact location of an emergency within seconds of an alert, getting help to where they need it fast. In an emergency quick response times are essential.