For this Tech Entrepreneur, Safety is Personal
by Alan Young, on May 14, 2019 12:16:12 PM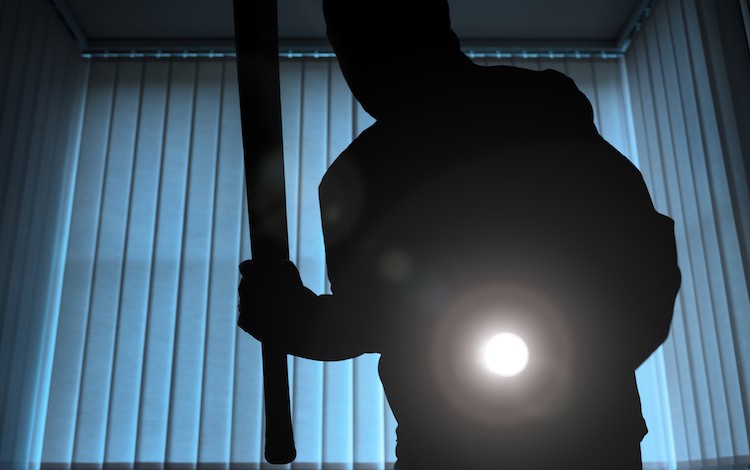 "For me, safety is personal."
This was the statement which lingered in my mind, as Robb Monkman, Founder, and CEO of React Mobile, told me his story.
In University, he and his roommates were the victims of an armed robbery. One night while they were sitting in the living room of their off-campus home, two men broke through the front door. Robb felt the cold metal of a gun barrel pressed against his forehead, as fear shot through his body in a way that could only be described as paralyzing. One of his roommates was dragged upstairs, separated from the rest of the group, duck-taped and the lingering threat "If you do anything, he will die," creating an impenetrable air of silence and horror throughout the house.
Fortunately, they survived – but the helplessness Robb and his roommates felt, and the reality that many individuals in similar scenarios are not so lucky to make it out alive, weighed heavy on them for years to come. Their friends and family experienced this crippling fear in a residual sense; "What if this happens again? How can this be prevented?" they continued to ask, and Robb realized there was no easy answer.
Robb had survived an experience in which his life, quite literally, hung in the balance – and through that experience, he also realized he wanted to do something meaningful about it.
"It wasn't just me that was put in a terrible situation. My roommates, our families, and those countless other individuals that find their life or health at risk every day – what measures were in place to protect them? Was help truly accessible? What more could be done?"
Robb determined that what existed at the time, simply wasn't enough. "I noticed that there were emergency call boxes and blue light polls scattered around campus, but what good were those? Unless an incident occurred (conveniently) beside one, how could they provide anything more than a misguided perception of safety?" And it wasn't just on campus – Robb found himself considering the high-risk nature of mobile workforces (real estate agents, mobile health workers, etc.). Day after day, these individuals were experiencing an increased likelihood of injury, assault or harassment.
It was then that the founding concept for React Mobile was born. Recognizing that iPhones were carried around by everyone, and housed newly-popular and overtly accessible apps, Robb realized an opportunity to create a simple, free safety app. The first of its kind, this app ensured everyone had access to an 'emergency call box' – right in the palm of their hand, 24/7.
Admittedly, Robb never anticipated this would become a business. Establishing improved safety resources had simply become his passion as a by-product of his circumstance, and became increasingly important to him as safety continued to become a bigger issue around the world. Quite simply, Robb just wanted to do his part (small or large) to make the world a safer place, and give individuals a potentially life-saving resource in times of distress.
To further his commitment to public safety, Robb spent his early years working within an emergency communications platform, which created software and tools used by first responders and homeland security. It was here that he learned the complex underpinnings of advanced safety software, as the React Mobile app continued to exist as a part-time endeavor. However, the demand for something more soon reached a fever pitch, and Robb realized the opportunity his platform had to evolve into something bigger, and ultimately more impactful. With the help of his business partner, Robb used his knowledge of safety programming to create a Bluetooth panic button – which, at the time, hadn't even been invented yet. With the support of a successful kickstarter campaign, React Mobile evolved into what it is today – a dedicated enterprise safety platform that promises to protect hotel employees day and night, anywhere on the property.
React Mobile's evolution from a simple app to a comprehensive safety platform opened the door into an industry which, arguably, needed their help the most – hospitality. After all, studies have shown that hotel and motel workers have a nonfatal injury and illness rate of 5.4 (while the rate for all industries is 3.5). Further, nearly 58% of hotel workers surveyed report being sexually harassed by a guest, and nearly half of all hotel housekeepers surveyed said guests have at one time exposed themselves or answered their door naked. The threat to the safety of hospitality workers – whether due to physical or sexual assault, implications of labor or the often independent nature of their work, is undeniable. While some hotel properties previously employed legacy noisemakers as standard protocol, these simply weren't enough. Hotels today don't work on a horizontal plane; rather, they often house multi-story buildings across massive properties – an environment in which the simple emittance of a loud alert often isn't effective. In emergency scenarios, modern hotels require a more robust solution, one that can identify and leverage the critical information responders need to help those employees in distress. This is where React Mobile comes in, integrating with a hotel's existing Bluetooth assets and platforms to fit the specific needs of each property, while ensuring staff members can be located anywhere on property within seconds of a distress call.
While the hospitality industry is somewhat notorious for its slow adoption of emerging technology, the conversation for improved employee safety measures across hotel properties has finally made it to center stage. With the implementation of the 5 Star Promise, hotels across the U.S. are pledging to provide hotel employees with employee safety devices (ESDs) and commit to enhanced policies, training and resources that together are aimed at enhancing hotel safety.
Robb explains that this marks an important transition for the hospitality industry, and an opportunity for React Mobile to have even more impact. "The safety landscape isn't new to us. We pioneered this technology at scale a long time ago and have since been able to enforce enhanced safety measures at some of the leading brands in hospitality. React Mobile is so proud to be working closely with the AHLA and the 5 Star Promise, not only by providing a best-in-class safety platform, but also by providing resources to help hotels that are committing to this new industry standard."
"Ultimately, we just want to protect people the best way we can. The desire to save lives was the reason we created this technology, and to stand here today and know that we have – and will continue – to accomplish that goal, is truly incredible."