Employee Safety Technology Doesn't Have To Be Complicated – Here's Why
by React Mobile, on Mar 10, 2020 9:04:17 AM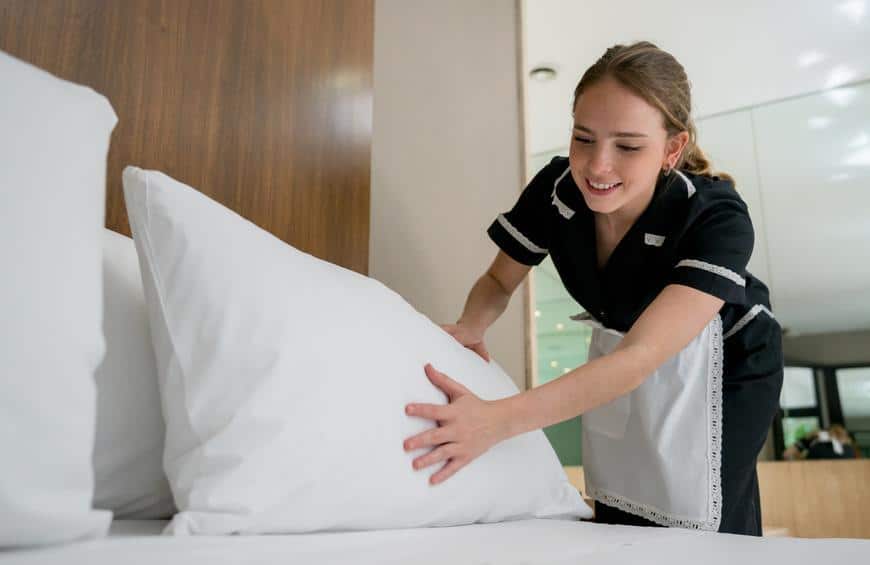 Charles Darwin once said, "It is not the strongest of the species that survives, nor the most intelligent that survives. It is the one that is most adaptable to change". Change is the catalyst to continued growth and, in the case of hospitality, it's often the determining factor which leads to ultimate success. Those hotels which readily adopt and leverage cutting-edge technology to enhance their operational framework, are sure to reap the rewards.

We know this, and yet, resistance to the adoption of new technology is quite common across organizations. Studies show that about 70% of all change initiatives within a company fail, and 39% of employees are resistant to change. Even when the 'change' at hand comes in the form of technology that could improve the employee and consumer experience, adoption can still be an uphill battle behind the scenes. Why is this? How can hotels identify and, better yet, avoid those common barriers to critical technology adoption across staff?

Moreover, for hoteliers hoping to heighten their on-property safety standards for staff with the implementation of employee safety technology, how can they ensure the seamless embrace of a new platform?

Fortunately, it doesn't have to be so complicated. Here's why.
It's Not Your Staff That's the Problem, It's the User Experience
Employee safety platforms are in place to empower and protect staff, and their implementation marks a decisive shift that has inspired a ripple effect of policy changes across hotels worldwide. That being said, technology can only be utilized effectively if it can be utilized easily. When selecting a new staff safety platform, the user experience should be top of mind for any hotel. This becomes even more paramount in an industry such as hospitality, which grapples with notoriously high employee turnover rates. Ultimately, as a hotelier, it is your responsibility to make the lives of employees easier with the introduction of new tech, not more complicated.

Let's consider the following:

– Nearly half of employees (48 percent) surveyed worldwide wish their workplace technology performed just like their personal technology
– For U.S. industries, 55% of the employees in state and local government feel strongly that outdated processes and technology makes their job more difficult.

It's not simply a matter of investing in new technology or processes; rather, hoteliers should focus on the selection of a technology vendor which has vetted and fortified their solution from the staff perspective.

In the case of ESDs, this calls for a solution that is wearable, intuitive, simple to use, discreet, and highly accurate (suggestion: Link to location blog). The platform should offer a stand-alone LTE button for those employees without a tethered smartphone, as well as an easy to use mobile app and a Bluetooth sidekick panic button that pairs with an employee's mobile device. With a variety of user-friendly formats available to staff, hoteliers can expect a more streamlined implementation process. Why? Because rather than expecting staff to conform and cater to the technology, the platform was built specifically for them and their unique needs.
Safety is Only a Click Away
Unfortunately, the hospitality industry is no stranger to on-property incidents. Due to the remote nature of the work, medical emergencies, and/or issues of harassment or assault can often create dangerous situations for staff. In fact, a 2019 survey of 190 hotel workers at Hotel Georgia in Vancouver revealed that nearly three-quarters (73 percent) of surveyed workers "yes" when asked if a guest had ever done something that made them feel uncomfortable. Further, more than half of respondents at the Westin (55 percent) and Hyatt (52 percent) hotels also answered "yes" to this question.

While these instances can't always be readily predicted or avoided, hotels are still in complete control of the system(s) they have in place to respond to these situations in a timely — sometimes life-saving — manner.
Of course, as it relates to staff safety, discretion, accessibility, and location accuracy is especially paramount. In the case of an emergency, employees should be able to easily trigger an SOS via Bluetooth beacon technology, whether from the app on their phone or the simple click of a sidekick device. The React Mobile Sidekick Bluetooth panic button was designed precisely for this, ensuring staff can call for help quickly and discreetly, as the platform relays their precise coordinates in real-time, on or off the property. For easy adoption, the device is iOS and Android compatible, pairing via Bluetooth to a staff member's device. The platform itself is robust and flexible, offering each hotel a tailored solution to suit the unique needs of that property.

The best part? Our ESD is so easy to use, the platform requires little to no training. No manuals or long-winded training sessions needed, just a safer, tech-enabled environment for your staff. With a simple install of a customized safety solution, employees can trust that support is always only a click or tap away.

Suddenly, the adoption of staff safety technology doesn't seem so complicated, does it?
Learn how to choose an employee safety device in our guide, click below: