Will Your Hotel Pass Its Next QA Inspection? Not Likely if Employee Safety Devices are Not in Play
by John Stachowiak, on May 27, 2022 3:09:54 PM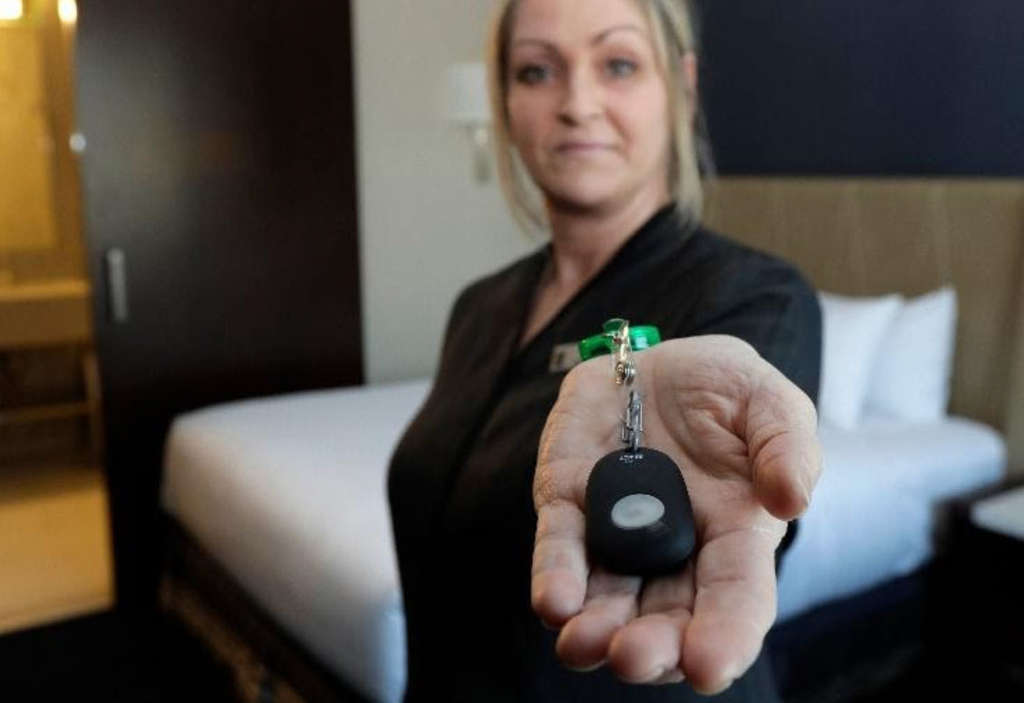 Like it or not, when a hotel's next Quality Assurance Inspection rolls around, Employee Safety Device (ESD) compliance will now be part of the checklist if the property is managed or franchised by one of the 60 hotel companies that made a pledge to the AHLA's 5-Star Promise initiative. That means if the hotel has not equipped certain associates with an emergency alert device or panic button platform by the time the brand inspector shows up, chances are likely it can FAIL.
Those who thought QA Inspections were nerve-wracking before may be gobsmacked when they see the new brand-mandated ESD requirements added to the checklist. Most of the global enterprise brands require that hotels provide associate alert devices, at a minimum, to associates that frequently work in areas of the hotel that may put them in direct, one-on-one contact with a guest in enclosed areas. Some require the devices to have geolocation capability to locate an associate, minimally, within a 5-meter horizontal radius. Geolocation coverage must include (but is not limited to) guest-rooms, guest-room floor service landings, guest-room floor housekeeping storage closets, spa treatment rooms, and public restrooms.
But wait . . . there's more. QA inspectors will be checking to see that ESDs are part of the associate uniform and worn when provided to the person by the hotel, and properties must follow ESD inventory, maintenance, testing, and response procedures. These requirements are in addition to making sure that rooms and public spaces are dust-free; tubs, sinks and toilets are hair-free; and linens and terry products are stain-free. Remember when you thought it was a hassle to ensure that all alarm clock, TV remote, and smoke detector batteries were fully charged? QA inspectors will now be looking at batteries in wearable panic buttons and related beacons too.
Because acing a QA Inspection just got harder, operators should not delay in finding an ESD partner. Even if a safety solution has not been installed, having a signed contract with a preferred provider can make the difference in a PASS or FAIL scenario. Some brands may take a stop-light approach to ESD compliance: A hotel that meets all ESD requirements will get a "Green" rating and likely will PASS inspection if all other criteria are met. A hotel with a signed contract but the ESD platform has not yet been installed will get a "Yellow" rating; the hotel may PASS inspection if all other criteria or met but the QA inspector will be back within six months to evaluate that the ESD system is fully operational. A hotel that has not taken any steps to add ESD technology will get a "RED" rating and will likely FAIL the inspection even if all other criteria are met. The QA Inspector will return in three months or less to reevaluate the RED situation and further action may be taken.
So, how does an operator choose an ESD partner for the hotel? Most brands have already taken the guess work out of the equation and identified a preferred provider they feel comfortable using for their hotels. For properties without a brand mandated ESD, here are a few factors to consider when starting the selection process:
Make sure the panic button alert is simple to activate – If a person is being chased down a hallway at max speed, they do not have time to push multiple buttons or squeeze two sides on a device to activate an alert. Make sure the ESD features single button activation, and that the device alert is silent so associates can call for help without alerting the threat that you have assistance on the way.
Make sure the device shows when help is on the way – Most platforms will send information about the panic button user ID and location details to security responder contacts via push/email/SMS notification during an active panic button alert. What is preferred is to provide the person who activated the alert a verified response to indicate that the alert was received, and help is on the way.
Make sure the device features real-time status updates – Instead of calling or texting the head of security in a building to figure out who is heading to the alert location, real-time status update is helpful for maximizing efficiency, especially if there are multiple active alerts going on at one time. All authorized responders should see who is on the way for each alert. A built-in chat function is helpful so responders can communicate information or request additional assistance.
Make sure user information is private when not in use – Most people don't like the idea of their location being tracked during their entire day at work, and many unions make that clear in their collective bargaining agreements (CBAs). Choose an ESD platform that never tracks a person's location until they activate an alert during an emergency is preferable to employees. As an added benefit, not constantly tracking a person's location conserves the device's battery life and requires less frequent charging.
Make sure the provider has a safety-first culture – In today's new normal, safety of employees and guests is a top priority. Always partner with an ESD solution provider that develops solutions purpose-built to protect people. Ensure that the solution selected makes it easy for people in distress to call for help and for responders to immediately arrive at the exact location.
Most brand-approved suppliers of panic button solutions already have a back log of ESD installations on the books. Therefore, my advice to any hotel facing an upcoming QA Inspection without ESD implementation is this: "Don't wait." If your brand made a commitment to technology deployment, delaying the inevitable will just put the hotel at risk of noncompliance and a FAILED QA Inspection.
The industry is beginning to rebound, and travelers are returning. Don't risk losing the hotel's flag to some red tape. Reach out and call someone today.
About React Mobile
Founded in 2013, React Mobile is a global leader in providing panic button solutions for hotels. Our best-in-class hospitality safety platform helps hotels keep their employees safe. The React Mobile system is an open and flexible platform that allows management to deploy response resources to the exact location of an emergency within seconds of an alert, getting help to where it's needed anywhere on or off property. In an emergency quick response times are essential and React Mobile provides the tools for a rapid response. For more information, visit www.reactmobile.com.