We Support Hotels: New Customers Receive Fee Waivers and Deferred Payment Terms
by Brandon DeCuir, on Apr 17, 2020 2:25:21 PM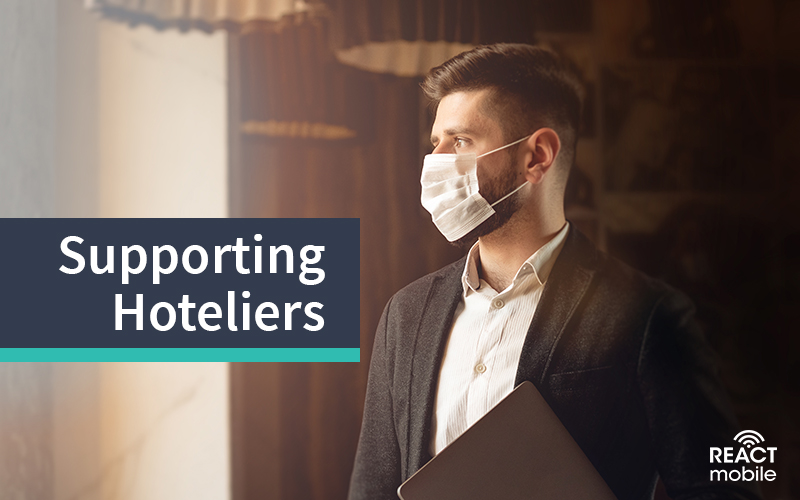 For Immediate Release:
As the Hotel Industry Struggles with The Disruptive Impacts of COVID-19 React Mobile Stands Behind Hoteliers by offering free service to new customers.
React Mobile, the market-leading hospitality safety technology provider, announced measures today to help alleviate the growing impact of the coronavirus (COVID-19) on the hospitality industry. React Mobile is offering new customers signing up in April or May two free months of service and 90-day deferred payment terms.
Related Post: We Stand Behind Our Hotel Customers Impacted by COVID-19  (For Current Customers)
Even though hotel bookings are down, many forward-looking hotel brands are still moving forward with the fulfillment of their commitment to providing safety solutions that will help keep employees safe during their workday. Through the AHLA 5-Star Promise, over 50+ hotel brands have committed to deploying employee safety devices in 2020. React Mobile remains committed to working with its hotel partners to ensure the fulfillment of these commitments this year and continue to actively complete onsite installations.
"We know that these are incredibly trying times for our industry. Rest assured that React Mobile is doing everything we can to reduce the burden while simultaneously working hard to continue to help fulfill safety mandates and brand commitments to employee safety throughout the country." explains Robb Monkman, Founder and CEO of React Mobile. "The impacts of COVID-19 are tremendous, and we hope that by providing free service for a period of time that we will do our part to help our hotel customers during these tough times."
React Mobile is also assisting the hospitality industry during the COVID crisis by manufacturing and supplying personal protective equipment (PPE) to our hotel customers in need. Zach Ryan, React Mobile CTO explains "we saw that there was a need for critical personal protective equipment like face masks and face shields so we began sourcing materials and producing this for our customers. We have sourced face mask materials and have our own 3D printers making face shields based on blueprint files provided by the CDC. We're committed to doing everything we can to help our hotel customers".
React Mobile has been providing enterprise-class safety solutions for the better part of a decade. Their cloud-enabled ESD technology is reliable, cost-effective, easy to use, and requires little training. Extensive support capabilities, 24/7 accessibility, and impressive implementation infrastructure are what make React Mobile the most trusted solution for hoteliers worldwide.
To learn more about React Mobile, please talk to our sales team.
###
About React Mobile

Founded in 2013, React Mobile is a global leader in providing panic button solutions for hotels. Their best in class hospitality safety platform helps hotels keep their employees safe. The React Mobile system allows management to deploy response resources to the exact location of an emergency within seconds of an alert, getting help to where they need it fast. In an emergency, quick response times are essential. To learn more, visit ReactMobile.com.