The Hospitality Show to Showcase React Mobile 2.0 Employee Safety Devices
by Linaeya Horn-Muller, on Jun 26, 2023 11:13:31 AM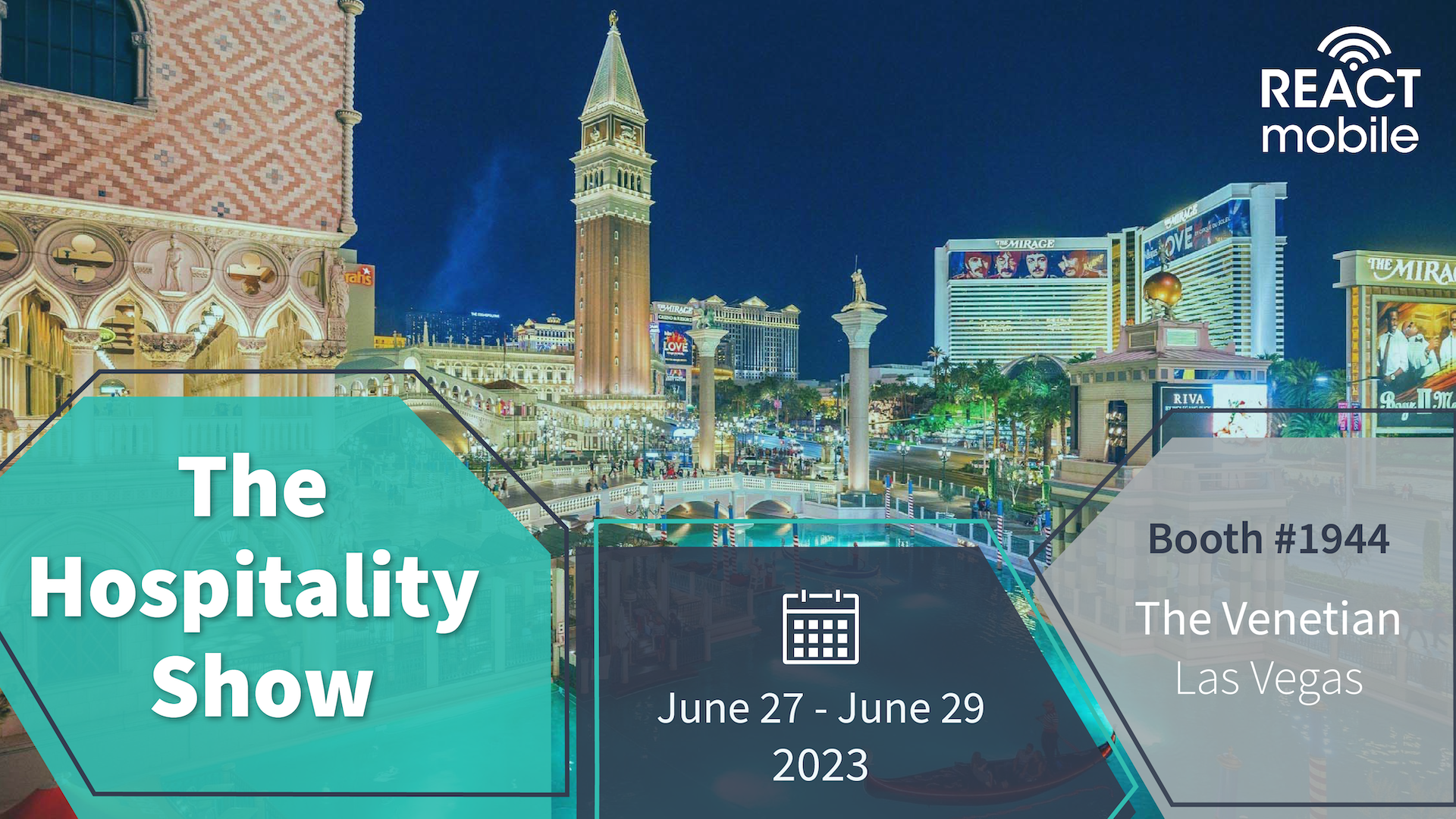 SEATTLE – This week industry leaders flock to Las Vegas, NV., to attend The Hospitality Show, a brand-new event for the entire hospitality ecosystem. To be held on June 27th - 29th at The Venetian Las Vegas, attendees will network with industry leaders, senior executives of hotel brands, owners, operators, management companies, developers, investors and technology partners – including React Mobile at Booth 1944 – during the interactive trade show. React Mobile, a global leader of panic button solutions for hotels, will serve as an exhibitor during the event.
"We are thrilled to be exhibiting at the first ever Hospitality Show," said Riley Eller, CTO of React Mobile. "One of the goals of this event is to introduce hoteliers to technology solutions that increase efficiency and profitability which is why we are so excited to showcase our React Mobile 2.0 workplace safety platform, and our latest feature releases and product offerings."
Whenever an alert is activated, React Mobile 2.0 sends an notification to hotel operators and administrators on the platform. From the instant activation, a worker's location movements are sent to designated emergency responders to provide help exactly when and where it is needed. The technology retains the ability to track worker movements in the event of an emergency, without monitoring their location during day-to-day activities.
Several features separate React Mobile 2.0 from other workplace safety platforms on the market:
The platform triggers a silent alarm that brings help without alerting others that a response is coming.

Once the silent alarm on the panic button is pressed, a red-light flash to verify dispatch.

In less than one second (when a responder receives the alert) the flashing light turns blue to notify the employee in distress that help is on the way.

The solution prevents alerts from being triggered erroneously.

It complies with Collective Bargaining Agreements that protect employees from being tracked on a property when not in danger, thereby saving panic button battery life and honoring employee privacy.

It enables employees to receive safety alert notifications on their mobile devices and dispatch help.

Management teams receive analytics measuring how long it took for an employee to respond to an active alert.

All third-party iBeacons, such as Aruba, Cisco Meraki, and CommScope/RUCKUS® are supported. With iBeacon functionality already existing in the hotel's Wi-Fi access points, hoteliers will save up to 75% of workforce safety platform install costs.

The highly sensitive machine-learning backend greatly increases location accuracy.

The platform reports GPS coordinates for users working on and off property.

The platform provides SMS and email notifications.

A double-redundant alert pipeline ensures that alerts are dispatched from panic buttons to responders in the fastest time possible. React Mobile 2.0 delivers 99.9% of alerts in less than a half-second.

Tap the button once to check battery life and network coverage where you're standing.

Two-way multi-lingual conversations can be facilitated in English, Spanish and French. Any language can be supported on request.

Single sign-on (SSO) authentication is enabled from existing employee email and password.

Housekeepers and responders working at multiple properties can use React Mobile 2.0 across the enterprise.
Hotels that take advantage of next-gen panic buttons are taking an integral step to protect their brand, their business, and their people. Before selecting a panic button platform, we suggest asking 12 essential questions. Click here to download the checklist now.
To learn more about React Mobile 2.0, visit www.reactmobile.com or visit React Mobile in Booth 1944 at The Hospitality Show.
About React Mobile
Founded in 2013, React Mobile is a global leader in providing panic button solutions for hotels. Our best-in-class hospitality safety platform helps hotels keep their employees safe. The React Mobile system is an open and flexible platform that allows management to deploy response resources to the exact location of an emergency within seconds of an alert, getting help to where it's needed anywhere on or off property. In an emergency quick response times are essential and React Mobile gives you the tools to react fast. For more information, visit http://www.reactmobile.com.