React Mobile Unveils Next Generation BLE Beacon Safety Technology to Pinpoint Employees In Multi-Story Buildings
by Brandon DeCuir, on Mar 3, 2020 12:49:49 PM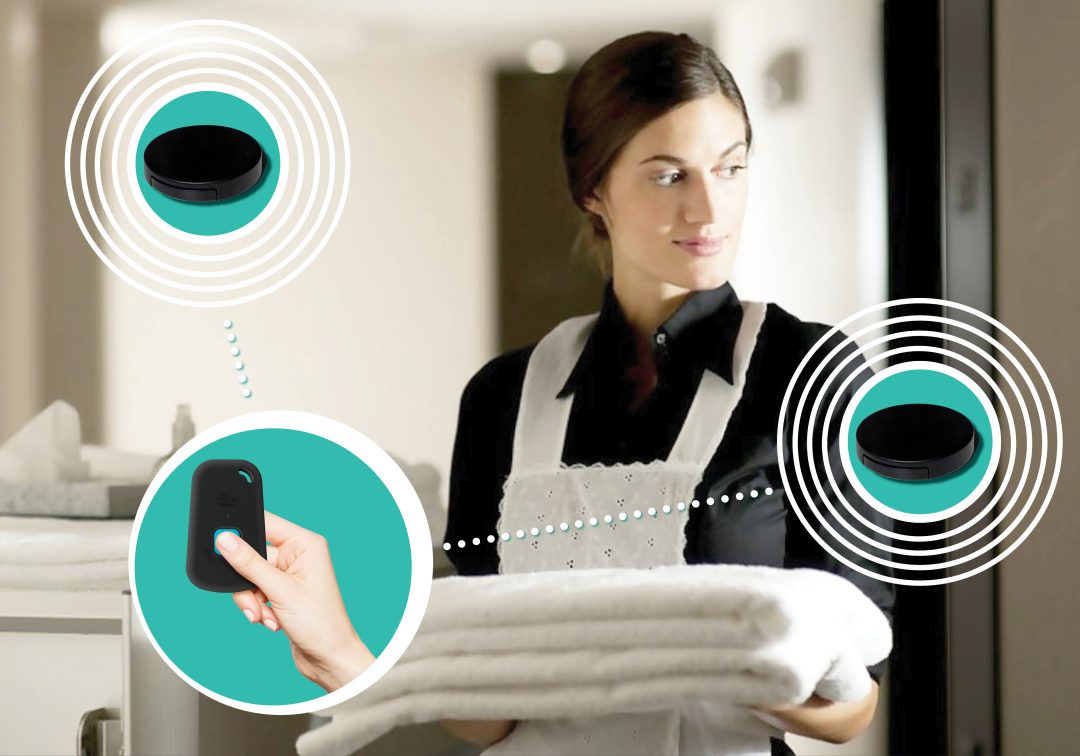 New real-time indoor location-based geopositioning technology enables hotels to better protect their workforce
React Mobile, the original inventor of the BLE panic button and market-leading hospitality safety technology provider, today announced the release of their latest product, the BLE 5.0 Beacon. The device is a discreet, easy to conceal tool that connects to React Mobile's safety platform to deliver precise room-level location accuracy indoors in multi-story buildings. Whether answering to a medical emergency, injury, or staff harassment, hotels are finally able to deploy resources to the exact coordinates of their employee, within seconds of an alert.
This latest innovation from React Mobile provides incredibly precise location information even within a high-rise building. When an employee safety device (ESD) is activated, the device identifies the closest BLE beacon. It then reports the precise room number, in real-time, along with GPS coordinates, to React Mobile's safety platform. The platform itself is robust and flexible, offering each hotel a tailored solution to suit their unique needs.
The innovative device consists of a small slim form factor, running on internal firmware. It is capable of long life expectations that far exceed standard Bluetooth beacon devices and contains a single button, capable of meeting a variety of customized needs. The beacon also consists of an ABS housing and PCBA mounted into an internal structure, which allows for the use of an accelerometer, should it be necessary to determine orientation along the XYZ cartesian plane.
Core features include:
Nordic NRF semiconductor-based microchip with extensive flash memory
5 LEDs that can be programmed to perform several different functions
Field upgradeable with OAD/OTA firmware updates
Capable of advertising at -0dbM, a range of 100-150 feet
Readily sourced and procurable
Dimensions: 1.97" x 0.39"
IP53 standard, and resistant to water and dust intrusion
Hassle-free install, with preinstalled 3m adhesive backing
Unused features are extendable (LEDs, button, accelerometer, flash memory)
Battery power by multiple CR 2032 cells, providing an extensive battery life of 3 years.
"In case of an emergency, employees should be able to easily trigger an alert whether from an app on their phone or the simple click of a button," explains Robb Monkman, Founder and CEO of React Mobile. "Unlike non-beacon devices, the BLE beacon can communicate an employee's exact whereabouts even in those areas of the hotel where GPS location data might otherwise be unavailable. Not only is the information highly accurate, but it can continue to provide alerts even if it is moved or falls out of place. Ensuring staff can call for help quickly and discreetly, which is the key in safeguarding and making sure a bad situation doesn't turn worse."
React Mobile has been providing enterprise-class safety solutions for the better part of a decade. Their cloud-enabled ESD technology is reliable, cost-effective, easy to use, and requires little to no training. Worldwide support capabilities, 24/7 accessibility, and impressive implementation infrastructure are what make React Mobile the most trusted solution for hoteliers worldwide.
To learn more about React Mobile's Beacon, please visit reactmobile.com.