React Mobile to Showcase Hospitality's Most Responsive, Reliable, and Self-Managing Panic Button Solution at Washington State Hospitality Conference
by Barb Worcester, on Nov 9, 2022 1:50:33 PM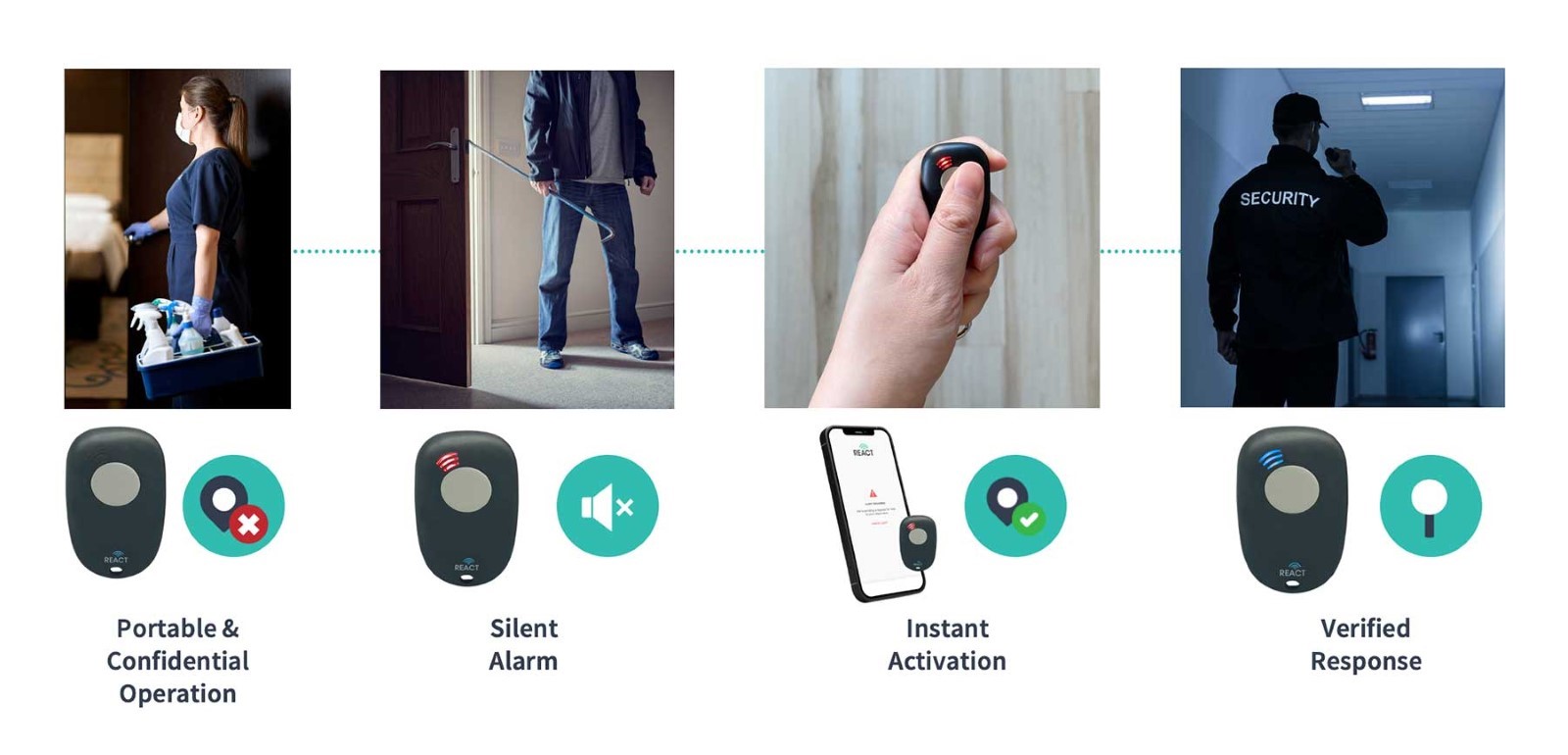 Members of the Washington Hospitality Assn. and students at Washington State University will come together next week to learn, connect, and network with peers, identify trends, and see the latest technologies that ensure the best guest and staff experiences; Visit React Mobile at Table 13.
SEATTLE - Next week members of the Washington Hospitality Assn. (WHA) will convene in Ruston, Wash., to attend the Washington State Hospitality Conference, the first co-produced event of the WHA and Washington State University. To be held November 17 at the Silver Cloud Hotel Tacoma Point Ruston Waterfront, attendees will learn from the experts by attending sessions with world class researchers from the WSU School of Hospitality Business Management; connect with industry partners and WSU alumni; and network with industry-leading suppliers – including React Mobile at Table 13 – during the interactive trade show. As a global leader of panic button solutions for hotels, React Mobile will also serve as a Hotel Tour Sponsor during the event.
"React Mobile is thrilled to be attending the Washington State Hospitality Conference as an exhibitor and sponsor this year. With Washington state legislation mandating that 'every hotel, motel, retail or property services contractor who employs an employee to provide each with a panic button,' it's critical that React Mobile be visible and impactful in as many ways possible. For the first time, we will be introducing our latest and most responsive, reliable, and self-managing panic button solution to WHA members. React Mobile ensures that alerts are dispatched from panic buttons to responders in the fastest time possible; 99.99% of alerts are delivered in less than half a second," said Ryan Heideman, React Mobile VP of Sales.
Heideman said he hopes attendees will leave the WSHC event with a better understanding that not all panic button solutions are alike – especially when it comes to response times and alert device location accuracy. Some employee safety device suppliers boast that after a panic button is pushed, their system will dial first responders on the hotel's behalf. The problem is that help will not arrive for at least 20 minutes or more in certain municipalities – or not at all in cities where those types of calls would get zero response, as their police force has abdicated all nonviolent responses. React Mobile will be on hand to explain to Washington hoteliers exactly what is required specific to their property to ensure that it is being responsible and compliant.
Washington State Panic Button Requirements
The following effectiveness criteria will help Washington hotel operators select an acceptable panic button device (and system) for their properties:
The panic button is designed to be carried by the user (e.g., lanyards, clip-ons, etc.).

The device should be simple to activate (e.g., a single action like a push, pull, or tap provides a sustained signal) without delays caused by entering passwords or waiting for the system to turn on.

When activated, the signal is effective for the circumstances (e.g., designated personnel will be able to detect it regardless of their location and distinguish it from other audible or visual alarms and noise from vacuum cleaners and other sources.).

The device is designed to summon immediate assistance and allows responders to accurately identify the user's location.

The device reliably works in all locations on all shifts and the activation of one device won't obscure the activation of others.

The device should minimize inadvertent activation and resist possible disabling by attackers.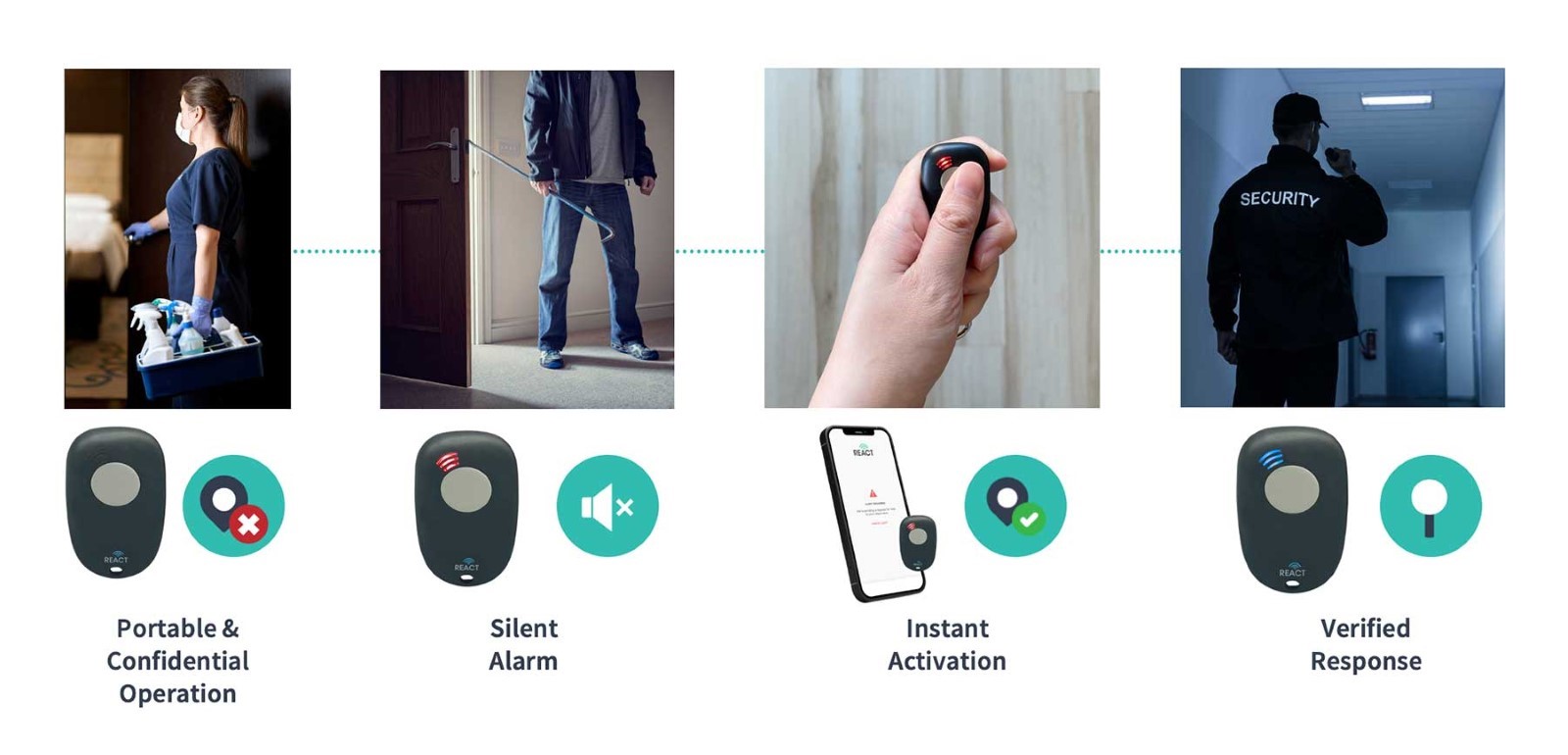 "Several things separate React Mobile 2.0 from other workforce safety platforms on the market," Heideman said. "Unlike competitors that use noisemakers to deter troublemakers, React Mobile 2.0 triggers a silent alarm that brings help without alerting others that a response is coming. Once the silent alarm on the panic button has been pressed a light begins flashing red. In less than one second (when a responder receives the alert and confirms help is on the way) the flashing light turns blue, providing visual verification of dispatch to the employee that their alert was received. This is the fastest response time on the market. React Mobile 2.0 also prevents panic buttons from being triggered erroneously and it complies with many Collective Bargaining Agreements (CBAs) that protect employees from being tracked on a property when not in danger, saving panic button battery life and honoring employee privacy."
Michele Arney, Seattle Downtown & South King County Territory Manager for the WHA, said both producers of this event are proud to bring cutting edge technology and industry research to members.
"We look forward to seeing everyone on Thursday, November 17th at the Silver Cloud Tacoma Point Ruston hotel from 1:00 p.m. to 9:00 p.m. for a full day of breakout sessions led by WSU faculty regarding tourism and hospitality trends, staffing solutions, sustainability, and cybersecurity," Arney said. "We are eager to give everyone the opportunity to network with peers during our trade-show to see the latest and greatest guest- and staff-experience products and services. We are especially grateful for our sponsors who are making Hotel Tour possible — the 30 minute tours will run between 4:15 p.m. and 5:30 p.m. and will be capped at 10 persons each. A reception hour will be followed by dinner featuring an awards program, with music and dancing to end the evening. WSU students will be in attendance throughout the event to introduce themselves to future employers and mentors in hospitality."
To learn more about React Mobile 2.0, visit www.reactmobile.com/demo-request.
About React Mobile
Founded in 2013, React Mobile is a global leader in providing panic button solutions for hotels. Our best-in-class hospitality safety platform helps hotels keep their employees safe. The React Mobile system is an open and flexible platform that allows management to deploy response resources to the exact location of an emergency within seconds of an alert, getting help to where it's needed anywhere on or off property. In an emergency quick response times are essential and React Mobile gives you the tools to react fast. For more information, visit http://www.reactmobile.com.