React Mobile to Showcase Hospitality's Best-in-Class Employee Safety Platform at Pyramid Global Leadership Conference
by Linaeya Horn-Muller, on Mar 23, 2023 7:43:04 AM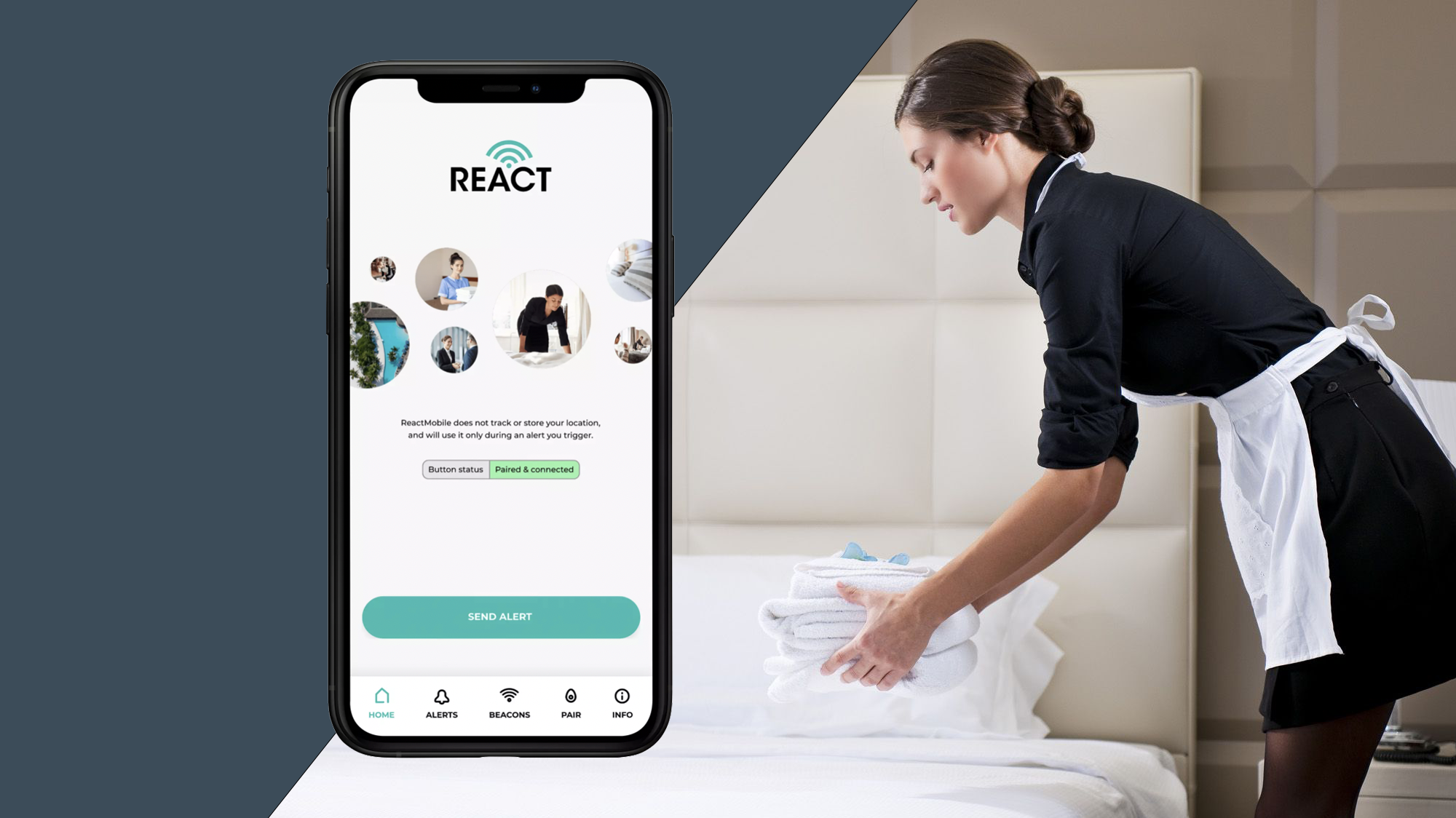 As a Gold Sponsor of the annual event, React Mobile will demonstrate why its workplace safety platform is radically simpler to use and boasts the highest standards of reliability and accuracy.
SEATTLE - Next week at the 2023 Pyramid Global Hospitality Leadership Conference, React Mobile will showcase its workplace safety platform to operators of the organization's branded, independent, and lifestyle hotels. As a Gold Sponsor of the event, to be held March 27- 28, at the La Cantera Resort & Club in San Antonio, Texas, attendees will experience hospitality's most reliable panic button solution on the market with the fastest emergency response time.
"We are excited to provide our continued support to this powerhouse organization," said Ryan Heideman, React Mobile VP of Sales. "Several properties, such as Pyramid Global's Hilton Garden Inn Seattle Downtown, already equip their employees with industry leading React Mobile Panic Buttons and Beacons. We encourage all Pyramid Global operators to stop by our booth (#704) next week to see how they can keep their people safe, and their assets better protected from liability."
What sets React Mobile apart:
Several features separate React Mobile 2.0 from other workplace safety platforms on the market:
The platform triggers a silent alarm that brings help without alerting others that a response is coming.

Once the silent alarm on the panic button is pressed, a red-light flash to verify dispatch.

In less than one second (when a responder receives the alert) the flashing light turns blue to notify the employee in distress that help is on the way.

The solution prevents alerts from being triggered erroneously.

It complies with Collective Bargaining Agreements that protect employees from being tracked on a property when not in danger, thereby saving panic button battery life and honoring employee privacy.

It enables employees to receive safety alert notifications on their mobile devices and dispatch help.

Management teams receive analytics measuring how long it took for an employee to respond to an active alert.

All third-party iBeacons, such as Aruba, Cisco Meraki, and CommScope/RUCKUS® are supported. With iBeacon functionality already existing in the hotel's WiFi access points, hoteliers will save up to 75% of workforce safety platform install costs.

The NEW, highly sensitive machine-learning backend greatly increases location accuracy.

A double-redundant alert pipeline ensures that alerts are dispatched from panic buttons to responders in the fastest time possible. React Mobile 2.0 delivers 99.9% of alerts in less than a half-second.

Tap the button once to check battery life and network coverage where you're standing.

Two-way multi-lingual conversations can be facilitated in English, Spanish and French. Any language can be supported on request.

Single sign-on (SSO) authentication is enabled from existing employee email and password.

Housekeepers and responders working at multiple properties can use React Mobile 2.0 across the enterprise.
To learn more about React Mobile 2.0 and demo the solution, click here.