React Mobile, CommScope Collaborate to Protect Workers, Drive IoT Innovation
by Brandon DeCuir, on Sep 1, 2020 9:11:43 AM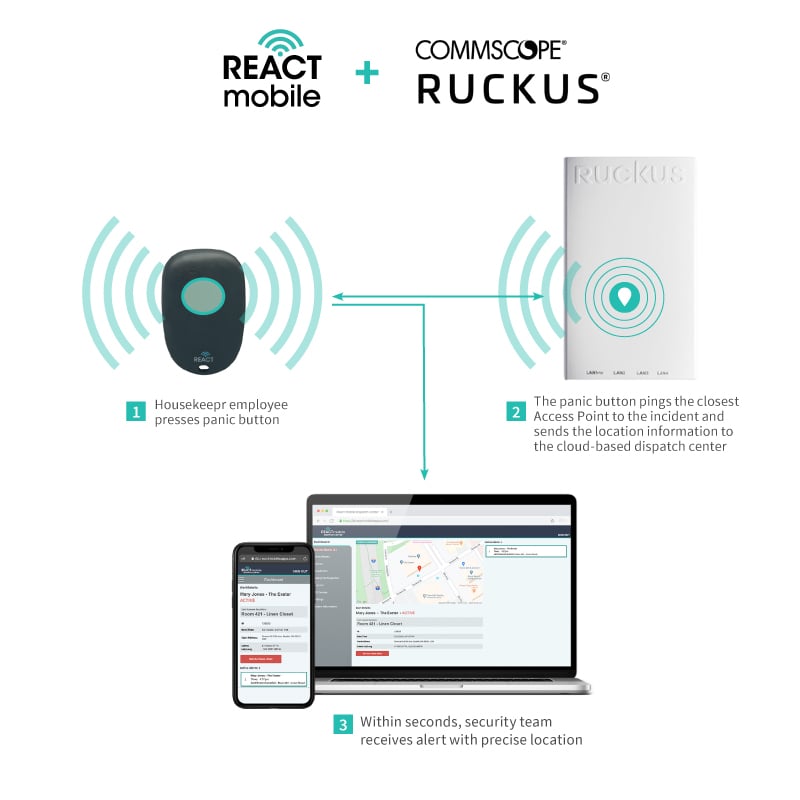 Simple, low-cost solution helps businesses focus on employee safety
SEATTLE, and HICKORY, N.C. - React Mobile and CommScope (NASDAQ: COMM) are joining forces to provide a flexible and cost-effective solution for keeping workers safe. Employee safety is of the utmost importance to businesses across many industries such as hospitality, healthcare and education.

The combined solution comprises CommScope RUCKUS wireless access points (APs) with integrated IoT and React Mobile's best-in-class employee safety devices (ESDs). By leveraging the Bluetooth Low Energy (BLE) beacons in RUCKUS Wi-Fi APs, businesses can quickly, easily, and cost effectively meet state and local government mandates to provide "panic buttons" to all lone workers.
How it works: When a worker activates the panic button, the device searches for the location of the closest RUCKUS AP that supports BLE. The React Mobile system tracks the distressed employee as he or she moves throughout a building or across a property, providing updated location information in real-time. Simultaneously, the RUCKUS IoT Suite can activate security cameras, lighting, door locks and other connected systems as part of the response. The RUCKUS IoT Suite can also generate additional notifications for first responders, including SMS messages and emails.
"Implementing technology post pandemic can be a daunting task, but with employee safety at risk, especially in a hotel environment, this is what must be done," said Mark Grodzinsky, senior director of CommScope's RUCKUS IoT portfolio. "We teamed with React Mobile to make their alert buttons easier and more cost-effective to deploy in the complex, multi-network hotel environment. Not only will this equip workers with much needed ― and government mandated ― safety devices, but it will also provide a future-oriented platform for ongoing IoT innovation."
"This is big news for the 20,000 hotel properties that made a pledge to the AH&LA 5-Star Promise, especially considering that many of them already rely on CommScope RUCKUS networks for Wi-Fi connectivity," Grodzinsky said. "CommScope and React Mobile are making it easier for these hotel companies to comply with government requirements and industry initiatives for panic buttons and other staff safety measures."
Robb Monkman, React Mobile Founder, concurred and said: "More than ever before, technology companies need to collaborate to create a safer workplace without high costs and technical complexity. In the hospitality industry — with an estimated 187,000 hotels and 17.5 million guest-rooms — the demand for IoT as a means of enhancing guest safety has exploded. We are proud to join the RUCKUS Alliance Partner Program and eager to introduce the React Mobile safety alert and monitoring solution to their RUCKUS IoT Suite customers. Together we are answering the new-age question: 'How can I implement employee safety devices affordably in today's economic climate?'"
About CommScope
CommScope (NASDAQ: COMM) is pushing the boundaries of technology to create the world's most advanced wired and wireless networks. Our global team of employees, innovators and technologists empower customers to anticipate what's next and invent what's possible. Discover more at www.commscope.com.
About React Mobile
Founded in 2013, React Mobile is a global leader in providing panic button solutions for hotels. Our best in class hospitality safety platform helps hotels keep their employees safe. The React Mobile system is an open and flexible platform that allows management to deploy response resources to the exact location of an emergency within seconds of an alert, getting help to where it's needed anywhere on or off property. In an emergency quick response times are essential and React Mobile gives you the tools to react fast. For more information, visit www.reactmobile.com.