React Mobile Announces Attendance at the AH&LA Safety Summit to Support Hospitality Industry Safety and The 5 Star Promise
by Brandon DeCuir, on Apr 26, 2019 12:11:00 PM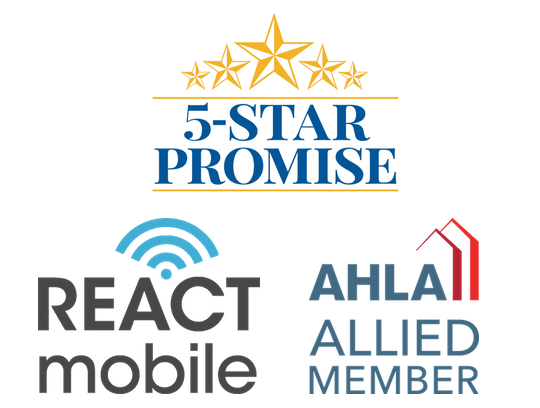 AHLA members and key industry leaders will gather at the Hotel Safety Summit on May 1st to discuss the hotel industry's ongoing commitment to workplace safety and anti-harassment protocols.
React Mobile, the global leader in providing best in class panic button solutions for the hospitality industry, announced today that they will be attending the Hotel Safety Summit at the Conrad Washington, D.C. on May 1st. The Hotel Safety Summit, hosted by the American Hotel & Lodging Association (AH&LA), will attract a variety of AH&LA members and industry leaders in workplace safety. React Mobile is a proud AH&LA 2019 Safety Summit & 5-Star Resource Sponsor and the Conrad DC property is currently using the React Safety platform to enforce and empower the safety of their employees.
The Summit marks a highly anticipated industry event, following the recent announcement of the 5-Star Promise brought forth by the AH&LA and major hotels across the U.S. With this new infrastructure in place, the AH&LA and participating hotels will empower employee safety with the employment of employee safety devices (ESDs) and enhanced policies, training and resources. Panic buttons and safety innovations from React Mobile are the new, long-awaited, industry safety standard. With the widespread implementation of panic button devices and improved safety training, hotel workers can finally feel safe and supported within their roles.
Robb Monkman, Founder and CEO of React Mobile is especially excited to see this initiative come to fruition and gain integral industry-wide traction. "As someone who was previously a victim of an armed robbery and hostage situation that left a lasting impression on me, I've since made it my mission to solve the problem of employee safety. With the help of my team at React Mobile, I've been able to do exactly that – by creating a simple, yet extremely powerful, personal safety platform that changes the way people call for help and provides employees with peace of mind. Aligning with the 5-Star Promise, we are empowered to help employees all over the world, and create a safer hospitality environment for all. We are so thrilled to be a part of the upcoming Hotel Safety Summit at the Conrad Washington, a hotel which, in fact, currently uses our safety platform."
The AH&LA believes that when it comes to safety and security, there is no compromise. This belief will be explored in greater detail during the Hotel Safety Summit, ensuring hoteliers are equipped with specific protocols, training programs and materials to promote employee and guest safety across all touch-points.
React Mobile has been providing enterprise class safety solutions for the better part of a decade. Want to know more about our hospitality panic button solutions? Click here.