React Mobile to Showcase Hospitality's Best-in-Class Employee Safety Platform at Benchmark Pyramid Leadership Conference
by Barb Worcester, on May 5, 2022 5:00:00 PM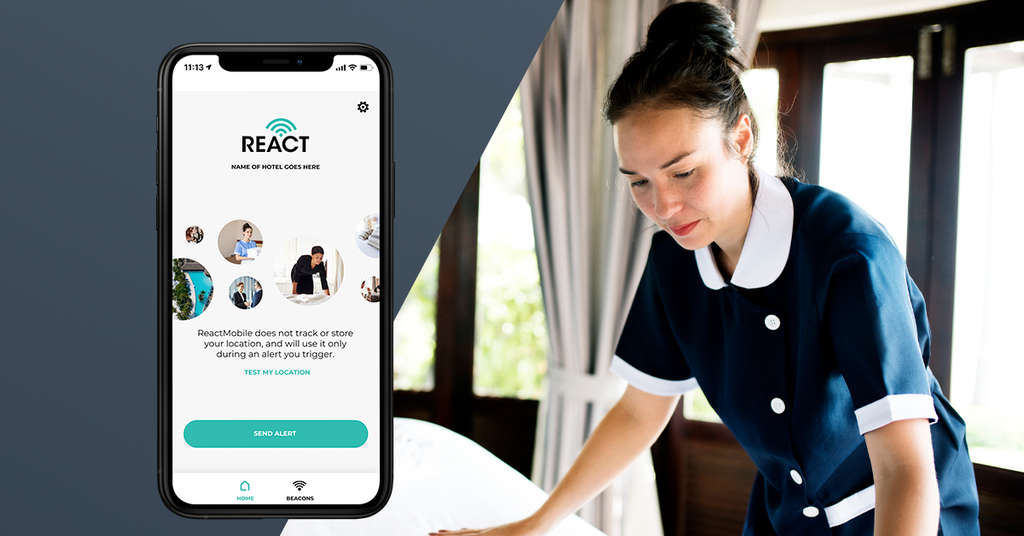 As a Platinum Sponsor of the annual event, React Mobile will demonstrate why its new solution is radically simpler to use and boasts the highest standards of reliability and accuracy
SEATTLE - Next week at the 2022 Benchmark Pyramid Leadership Conference Vendor Partner Tradeshow, React Mobile will introduce its NEW version 2.0 workforce safety platform to operators of the organization's branded, independent, and lifestyle hotels. As a Platinum Sponsor of the event, to be held Wednesday, May 11, at the La Quinta Resort & Club in La Quinta, Calif., attendees will experience hospitality's most reliable panic button solution on the market with the fastest emergency response time.
"We are eager to introduce React Mobile 2.0 to this powerhouse organization," said Ryan Heideman, React Mobile VP of Sales. "Several properties, such as Benchmark Pyramid's Willows Lodge and Hilton Garden Inn Seattle Downtown already equip their employees with industry-leading React Mobile Panic Buttons and Beacons, and soon they will upgrade to the new 2.0 platform. Others will be experiencing React Mobile 2.0 for the first time. Our solution has been completely rebuilt from scratch to be unlike anything on the market. It's better. It's easier. And people who stop by to see the solution will be blown away by the enhancements."
Four value propositions separate React Mobile 2.0 from other workforce safety platforms on the market:
1. Silent Alarm - Unlike competitors that use noisemakers to deter troublemakers (which oftentimes can escalate the violence), React Mobile 2.0 triggers a silent alarm that brings help without alerting others that a response is coming.
2. Verifiable Dispatch - Once the silent alarm on the panic button has been pressed a light begins flashing red. In less than one second (when a responder receives the alert and confirms help is on the way) the flashing light turns blue, providing visual acknowledgement to the employee their alert was received.
3. Confidential System - React Mobile 2.0 prevents panic buttons from being triggered erroneously. By configuring the button press pattern (hold down for three seconds or press the button three times within three seconds) false positive alerts are prevented. React Mobile 2.0 also complies with many Collective Bargaining Agreements (CBAs) that protect employees from being tracked on a property when not in danger, thereby saving panic button battery life and honoring employee privacy.
4. Instant Activation - In many competitive situations, when a panic button is pressed, someone needs to hear an audible alarm before they can call a dispatcher who may require a conversation while an attack is in progress. This results in a long delay before help is on the way. React Mobile 2.0 delivers the fastest response time compared to other providers.
React Mobile 2.0 Key Features Include:
Cellular Panic Button and beacons that won't touch your Wi-Fi infrastructure

No heavy equipment to install (No drilling, cabling, or bulky access points)

Battery powered to not take up outlets on property

Professional technicians install and verify platform is 100% covered

Cloud-based software (SaaS) with access anywhere on the go

A double-redundant alert pipeline to ensure that alerts are dispatched from panic buttons to responders in the fastest time possible. React Mobile delivers 99.99% of alerts in less than half a second.

A new responder application that will enable employees to receive safety alert notifications on their mobile devices and dispatch help. Management will receive analytics measuring how long it took for the employee to respond to an active alert.

Two-way multi-lingual conversations in English and Spanish. French and Chinese coming soon.

Single sign-on (SSO) authentications from existing employee email and password.
"Summer is right around the corner and guests will be returning in droves," Heideman said. "Hoteliers struggling to get people back to work must do everything possible to ensure that the right security measures and safety technologies are in place to protect everyone against threats of violence and sexual harassment. React Mobile is here to help. We encourage all Benchmark Pyramid operators to stop by our booth next week to see how they can keep their people safe and their asset better protected from liability."
To learn more about React Mobile 2.0 and demo the solution, click here.