iBASIS and Cellular IoT Modem Partner Nordic Semiconductor Chosen by React Mobile to Provide IoT Connectivity in Panic Buttons Around the Globe
by iBASIS, on Dec 8, 2020 10:51:00 AM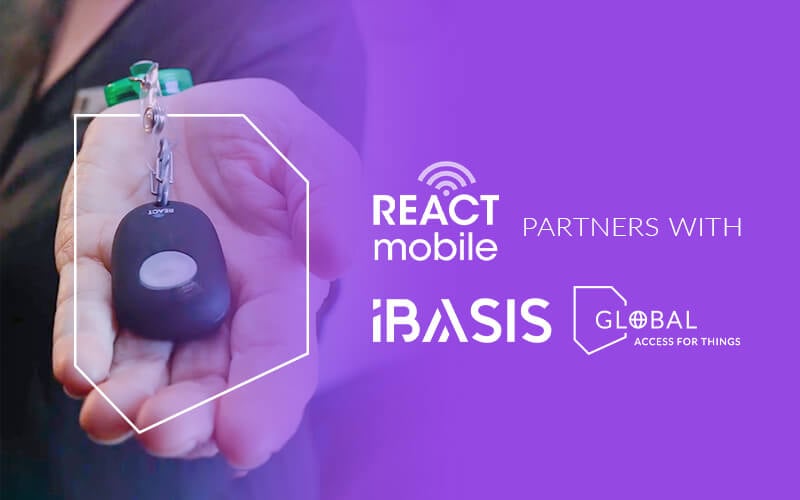 iBASIS eSIM solution provides patented dynamic carrier selection to drive most effective device connectivity to remotely monitor and manage devices worldwide for emergency response within seconds
Nordic Semiconductor multi-mode LTE-M/NB-IoT System-in-Package (SiP) sits at the heart of the React Mobile panic button
iBASIS simplifies cellular IoT management for application through a single provider with access to leading global network connectivity
Lexington, MA – iBASIS, the leading provider of communications solutions for operators and digital players worldwide, today announced that it has been selected by React Mobile for its Global Access for ThingsTM solution to deliver global IoT connectivity to panic buttons around the world. A Nordic Semiconductor nRF9160 SiP is being used to enable the hardware, software, and cellular IoT wireless communication side of the application.
React Mobile's Hospitality Safety platform enables hotels to keep employees safer by deploying rapid responses to emergency locations. With over 50,000 panic buttons deployed, React Mobile relies on the iBASIS IoT eSIM solution to enable dynamic selection of the local cellular IoT communications carrier worldwide that provides the strongest signal to reach its devices anywhere on or off a property within seconds.
iBASIS' eSIM capabilities and extensive global reach and operator relationships combine to ensure the automatic selection of optimal connectivity to support panic devices throughout all areas of large hotel facilities and convention centers.
React devices leverage integrated iBASIS eSIMs and a Nordic Semiconductor nRF9160 SiP-based design for easy implementation and automatic connectivity in diverse new geographies, markets, and locations. With the availability of LTE-M modem chips and global eSIMs React Mobile is now able to offer a standalone LTE version of its panic button that no longer needs a smartphone to connect to the cellular network.
​The iBASIS solution enables React's team and production facilities to seamlessly integrate pre-activated SIM cards into their devices and leverage pooled data to ensure that SIM cards stay active and do not require 'refills' or maintenance.
The flexibility to transition between carriers and bands ensures robust fallbacks with ready access to migrate to an alternate network without the need for intervention or configuration. The iBASIS solution also includes an easy-to-use platform for tools, testing, and internal support.
"We are very proud to work with React Mobile solutions as they create greater safety for employees throughout the world," says Ajay Joseph, iBASIS CTO. "React Mobile provides solutions that are critical to emergency response capabilities across multiple sectors as the company grows from leadership in the hospitality sector to the education and healthcare environments. We look forward to delivering best-in-class IoT connectivity via our patented eSIM capabilities and ability to provide the best reach to support that growth."
"We needed a truly global partner with a mature service offering and dynamic capabilities to select carriers for the best reach everywhere our devices are deployed," says Riley Eller, React Mobile CTO. "iBASIS offers unification through one provider with access to superior networks and seamless entry to all global markets. The knowledge that Nordic Semiconductor selected iBASIS as the single global connectivity provider to be included in all their cellular modem development kits, and that iBASIS is actively testing LTE-M connectivity around the world, gave us complete confidence to select iBASIS as our global connectivity supplier."
"While personal emergency alarms are not uncommon," comments Svein-Egil Nielsen, CTO of Nordic Semiconductor, "alarms that use standalone cellular networks without needing to be paired to a smartphone or gateway are unique. This new technology brings together for the first time the legendary security and reliability of cellular wireless communication to personal safety devices. This breakthrough has been enabled by the cellular IoT version of traditional voice and data cellular wireless technology which is so low power it can support small battery-powered devices which, if based on our nRF9160 SiP, offer class-leading power consumption and physical size and weight miniaturization as well."
ABOUT iBASIS
iBASIS is the leading communications solutions provider enabling operators and digital players worldwide to perform and transform. Powered by Tofane Global, iBASIS is the first independent communications specialist, ranking third largest global wholesale voice operator and Top 3 LTE IPX vendor with 700+ LTE destinations. iBASIS today serves 1,000+ customers across 18 offices worldwide.
iBASIS provides the end-to-end Global Access for Things™ connectivity solution, delivering single source cellular IoT access (LTE, LTE-M and NB-IoT) worldwide provisioned through GSMA-standard eSIM/eUICC technology. The solution simplifies IoT device connection through one unified platform for seamless, remote, programmable, and secure communication. For more information, please visit iBASIS.com.
ABOUT REACT MOBILE
Founded in 2013, React Mobile is a global leader in providing panic button solutions for hotels. Our best-in-class hospitality safety platform helps hotels keep their employees safe. The React Mobile system is an open and flexible platform that allows management to deploy response resources to the exact location of an emergency within seconds of an alert, getting help to where it's needed anywhere on or off property. In an emergency quick response times are essential and React Mobile gives you the tools to react fast. For more information, visit reactmobile.com.