Hotel Employee Safety Tech Innovator React Mobile Celebrates Record-Breaking Year, Showcasing New Advancements at HITEC 2019
by Brandon DeCuir, on Jun 4, 2019 12:56:00 PM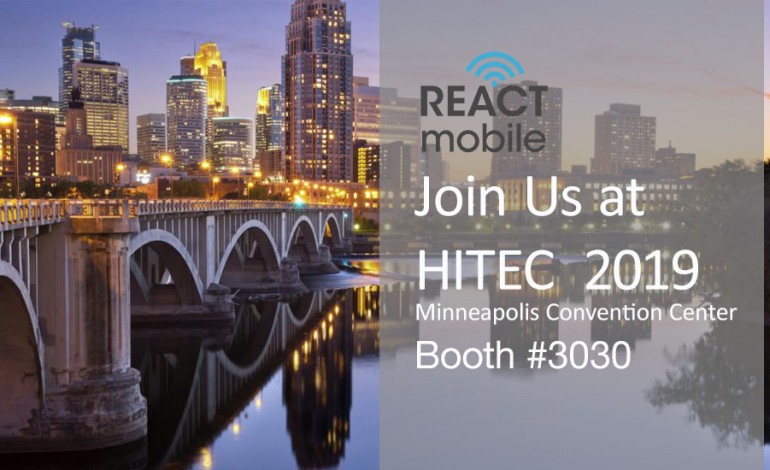 The global leader in enterprise-class safety solutions to roll out next-generation panic button and hotel employee safety devices at HITEC Minneapolis booth #3030
Minneapolis, Minnesota (June 4, 2019) – React Mobile, the market leading hospitality safety technology provider, announced today they will be unveiling their latest advancements at the world's largest and oldest hospitality technology convention, the Hospitality Industry Technology Exposition and Conference (HITEC®). Attendees at this year's event, which takes place June 17-20, 2019 at the Minneapolis Convention Center, will be able to view and demo React Mobile's next-generation suite of safety and security solutions at booth #3030. The company is also celebrating a landmark year that included record-setting implementations, strategic partnerships, new integrations, as well as preferred vendor status with some of the world's most notable hotel companies.
React Mobile has been providing enterprise-class safety solutions for the better part of a decade and attributes its trajectory of success to the fast-growing demand for their next-generation suite of safety and security solutions. With the largest customer base of any hotel panic button technology, the React Mobile platform is used by some of the world's most well-known brands that come from across the spectrum of the hotel industry. The cloud-enabled employee safety device (ESD) technology is easy to use and requires little to no training. The newest panic button, The SALTE (Stand-Alone LTE), works outdoors and indoors with Bluetooth beacons and GPS to provide precise location information about an employee's whereabouts inside or outside of a hotel without the need for an accompanying smart device. The SALTE safety device uses 4G networks using LTE-M (LTE CAT-M1), which means better reliability and lower service costs for hoteliers.
"We are at such an exciting time in our company's growth as we continue to develop future-proof technology to equip hoteliers with the highest standard in employee safety and security," explains React Mobile's Founder & CEO, Robb Monkman. "From small boutiques to some of the largest hotel properties in the world, we help hotels and resorts of all sizes protect their employees."
React Mobile has had a banner year, with recent milestones and accomplishments that include:
Attaining preferred vendor status with 5 top leading hotel brands
Formed a strong partnership with AHLA 5-Star Promise, and attended and supported

The Hotel Safety Summit

hosted by the American Hotel & Lodging Association (AH&LA)
Launched several new products and joint solutions including their stand-alone panic button
In new acquisitions, they have signed partnerships and/or integration deals with companies including Amadeus, Knowcross, Beekeeper, Nuvola, Volara, Edge Hotel Technology, Hotel Internet Services, Sirqul, Mode Green, Evotek, MRP Mobility, Cloud 5 Communications, Quore, Liveport, and Telkonet.
Deployments in Seattle, Chicago, Boston, New York, Washington DC, Miami, Los Angeles, San Francisco, Houston, Indianapolis, St Louis, Waikiki, Sacramento, and Las Vegas.
"Feeling safe at your workplace is important to everyone, especially hospitality employees, where rates of assault and risks are the highest of any industry," adds Monkman. "Our team is focused on providing the best solution to ensure safety in the workplace, and we are thrilled to be exhibiting at HITEC this year. We're looking forward to connecting with hoteliers that are working to comply with the AHLA 5 Star Promise and new and innovative technologies that are expected to re-shape the industry."
HITEC attendees and media are invited to meet with the React Mobile team at booth #3030 to learn more and see the pioneering hospitality employee solutions in action.
About React Mobile
Founded in 2013, React Mobile is a global leader in providing panic button solutions for hotels. Their best in class hospitality safety platform helps hotels keep their employees safe. The React Mobile system allows management to deploy response resources to the exact location of an emergency within seconds of an alert, getting help to where they need it fast. In an emergency quick response times are essential. To learn more, visit ReactMobile.com.