Taking Panic Button Alert Monitoring Controls to the Cloud
by Barb Worcester, on Jun 16, 2020 9:22:10 AM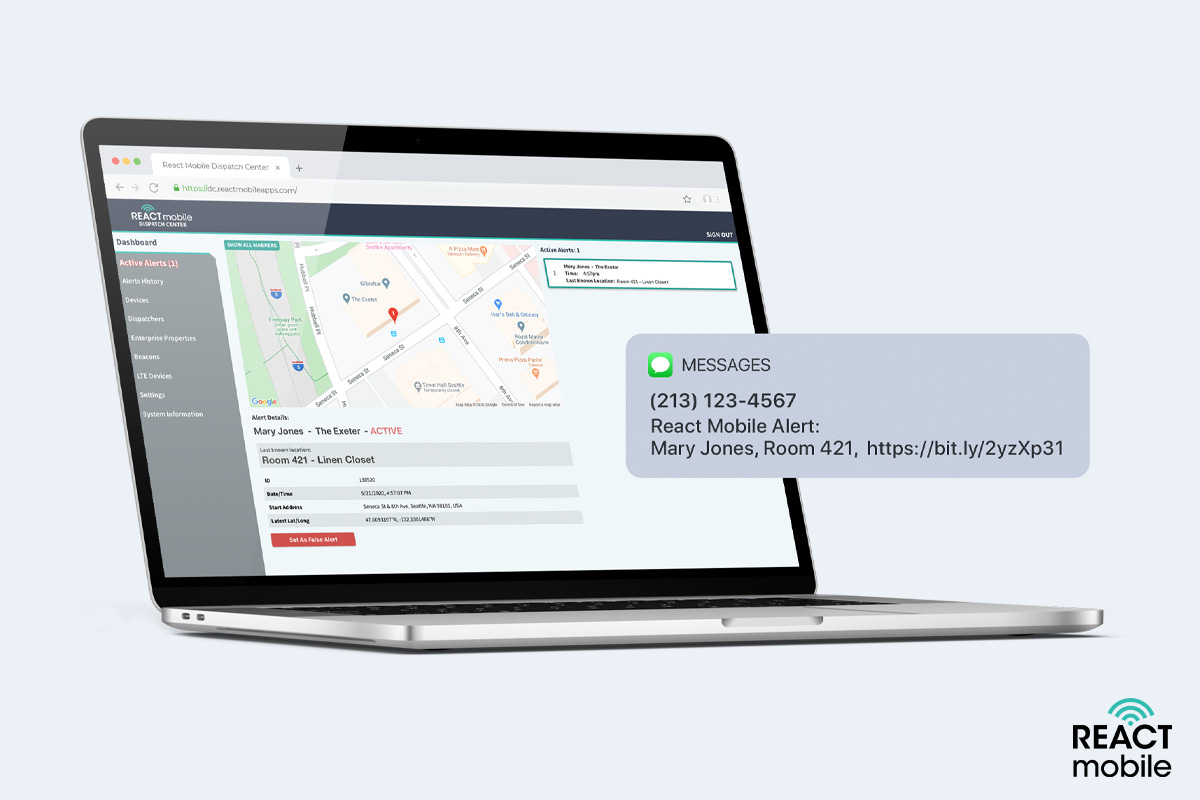 New browser-based 'Dispatch Center' giving hoteliers on-the-go access to the employee safety platform any time on any device
Seattle - React Mobile, the most trusted provider of panic button solutions to hotels, has recently updated its Dispatch Center to give response teams real-time access to emergency alerts via any browser. The new customer portal provides remote access and complete administrative control of the cloud-based safety platform from anywhere.
"Having mobile access to emergency alerts is critical in these uncertain times," said Robb Monkman, React Mobile CEO. "Whether an employee needs immediate assistance with a hotel guest in medical distress or a worker finds himself or herself in an uncomfortable or unsafe situation, this mobile feature will dispatch help to any device — a smartphone, tablet, Mac or PC — within seconds of being received, no matter where responders are on property. This is just one of the many ways that React Mobile is improving the safety of hotel workers everywhere."
The React Mobile Dispatch Center is used to:
Configure a hotel's response team and notification lists
Actively monitor beacons and buttons for connectivity and battery life
Issue alerts and update responders in real time
Track and log all alert history
The Dispatch Center dashboard displays a map of the property. If a panic button is engaged, the dashboard will display the indoor location of the panic button via Bluetooth® beacons or the outdoor location of the panic button using the built-in GPS on cellular and smartphone devices. As the administrative safety hub, this dashboard also provides access to alert histories and provides a listing of all devices, dispatchers, enterprise properties, beacons, LTE devices and more.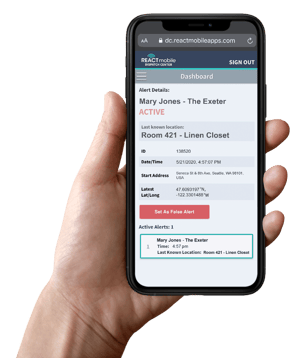 "We are very excited about the launch of this new Dispatch Center," said Tyson Paxton, React Mobile Client Success Manager. "This platform is the single source of truth for emergency alerts and safety monitoring on property. When hotels reopen and employees return to work, it won't be business as usual. Until operators can rebuild their workforces to pre-pandemic levels, they will be transitioning with lighter teams. By placing real-time alert functionality in the cloud, responders can act more quickly and confidently, knowing they have the full power of the Dispatch Center in the palms of their hands."
The new Dispatch Center went live in May and is already in use by new customers. Existing React Mobile users can log in to new Dispatch Center by clicking here.
For more information on the React Mobile Dispatch Center, view our solutions page.
About React Mobile
Founded in 2013, React Mobile is a global leader in providing panic button solutions for hotels. Our best in class hospitality safety platform helps hotels keep their employees safe. The React Mobile system is an open and flexible platform that allows management to deploy response resources to the exact location of an emergency within seconds of an alert, getting help to where it's needed anywhere on or off property. In an emergency quick response times are essential and React Mobile gives you the tools to react fast. For more information, visit www.reactmobile.com.