Don't Panic: This Technology Has Employee Safety Covered
by Abby Elyssa, on Jun 7, 2019 10:10:00 AM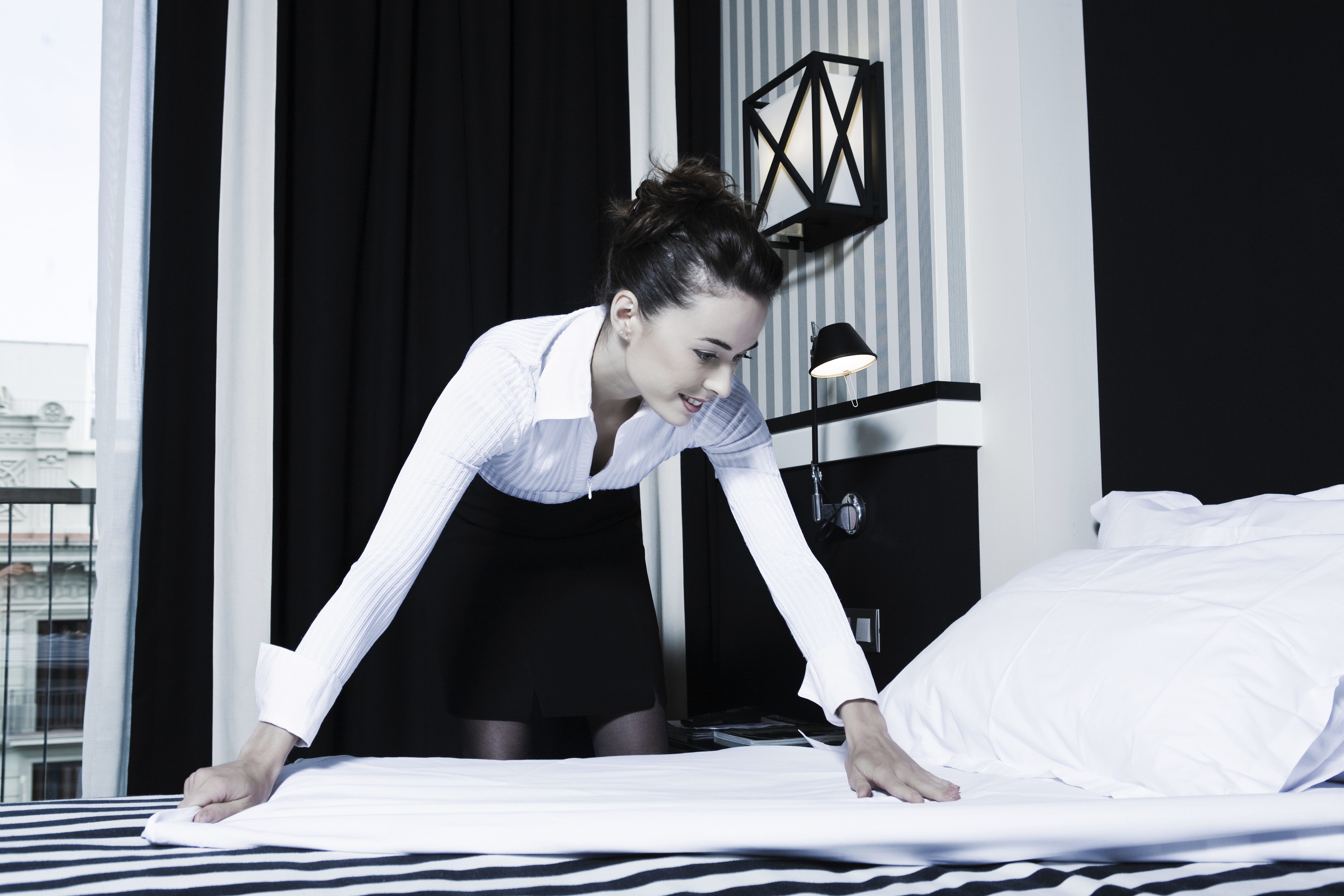 SEATTLE — Protecting employees and guests is always top of mind for a hotelier. A variety of amenities, best-in-class service and the newest technology are all important in creating a pleasurable stay, but all seem to take a backseat when it comes to hotel safety. Aside from employee training and security features, there's another step that hotels can take to ensure everyone stays safe. React Mobile supplies panic-button solutions for the hospitality industry, giving hotels an added boost to security operations.
"Our customers come from across the spectrum of the hotel industry, and we understand that one size doesn't fit all," said Robb Monkman, CEO, React Mobile. "To that end, we offer multiple safety solutions and panic buttons to fit the needs of any size hotel."
According to Monkman, there are two different versions of these panic buttons: a Bluetooth one, which is paired with a mobile device, and the other, which stands alone communicating via WiFi and LTE cellular. The buttons also offer voice-activated alerts through Amazon Alexa and Volara's hospitality platform.
"They should not require the employee to log into a mobile device to activate an alert; they should be able to locate the employee to a specific room within a multi-story building, and they should transmit the alert reliably to security staff on the property who can respond quickly," Monkman said.
Response time is key, which React Mobile knows could be the deciding factor in an emergency. To expedite the process, React Mobile has enterprise dispatch center software, giving those responding to emergencies the tools and information to act quickly.
"We know that in a real-life emergency, every second counts. With our platform, responders don't just know that an employee is in need of help; we also pinpoint the location of the employee down to the room and floor where they are located," Monkman said.
To pinpoint an employee's location, React Mobile employs real-time GPS location information, but also has integrated solutions with hospitality platforms including Amadeus, Knowcross and Nuvola, among others. Also speeding up the process is integration with Bluetooth technologies, including BLE Beacons, BLE access points and BLE thermostats.
"Quite simply, when a user presses one of our panic buttons, we are able to tell responders what beacon or BLE asset a user is closest to," Monkman said. "If the employee moves during the emergency, we will update their location."
He added, "Our alerts trigger a widespread emergency notification that is sent to our dispatch center console, and we also route alerts to any number of predefined emergency contacts via text message and email. We can configure our alerts to be sent to any monitoring center and even to the local authorities."
Especially in a multi-story building with ample amounts of both indoor and outdoor space, employees must be able to send out an emergency alert instantly, and Monkman said that other panic buttons don't always do this. Some buttons function as loud electronic whistles, while some just give GPS location information or are app-based, requiring a mobile login and access to the app to activate an alert.
"What's unique about React Mobile is that we offer multiple ways to identify someone's location inside or outside of a building. As an open platform, we save our customers time and money by leveraging technology and infrastructure that they are already using," he said.
Typically, these buttons are worn on a lanyard or a belt for easy access, and primarily for guestroom staff like housekeeping employees, in-room dining attendants, bellmen and maintenance staff. However, these buttons are becoming more popular with those who work outside of the guestrooms, like spa employees, drivers, front-desk workers and groundskeepers.
Safety is central for each staff member, especially with recent events triggering added measures. For Joel Moore, VP of hotel operations, Thunder Valley Casino Resort, this addition for the California resort was a no-brainer.
"Due to the recent events in Las Vegas and elsewhere, it's important that we protect our team members and give them a sense of security," Moore said. "The panic button was ideal because it interfaced with HotSOS, our hotel work order system, and allowed us to pinpoint exactly what room a team member was in when interfaced with React Mobile Dashboard. It was visible and can act as a deterrent to individuals who may otherwise take advantage of an individual working alone."
Moore advises other hoteliers to thoroughly train their employees with these buttons and create a joint effort between staff and the security team. Aside from these precautions and preparations, there are other areas that hoteliers should consider when it comes to this added layer of security.
Monkman said that legislation and union requirements are mandating panic buttons for housekeepers and room attendants, and in some cities, any employee who enters a guestroom needs one. As a result, React Mobile has developed tailored panic-button solutions for a hotel's entire staff. He suggested that button vendors should familiarize themselves with local mandates and work with the hotelier to ensure that the system is in compliance.
"Mandates vary from jurisdiction to jurisdiction; some have different accuracy requirements, and some have different requirements for which areas of the property must be covered. If your jurisdiction requires you to have common areas, bathrooms and stairwells covered, then you probably don't want a system that is going to be tied to the set-top boxes in your guestrooms for location information," Monkman said.
Monkman also recommends that before installing a new system, hotels should run a pilot and test location accuracy or speak to a reference customer who can confirm the system's ability to locate a signal, as many WiFi mapping solutions aren't completely accurate.
"Additionally, some systems rely on the existing WiFi infrastructure of the hotel to transmit the alerts from the device back to the response team," Monkman said. "The hotelier should be aware that they need to have a robust WiFi infrastructure or the system should have a fallback communication protocol like cellular LTE so that the alert is certain to get to the response teams."
Once all the right tech is in place and employees feel secure, staff can then focus on the experiential features of the property.
"Employees want them and feel reassured with a panic button at their side; however, if the button is unreliable or doesn't work well, the staff will quickly lose faith in the technology and will abandon using it," Monkman said. "Hoteliers must make sure that they choose tested vendors with reliable solutions and not just the cheapest offering. Employees also want systems that don't add additional work to their day."
Moore has found success with the buttons in a few instances, and employee feedback has been positive.
"The panic button offers that peace of mind to our team members that our company cares for their welfare and their personal security is important to us," he said. "I could not even imagine operating without them." HB
As Seen in Hotel Business.
Read this article on Hospitality Business where it originally appeared.