5 Reasons Why Employee Safety Devices are a Must-Have Budget Item for 2023
by John Stachowiak, on Sep 30, 2022 11:00:00 AM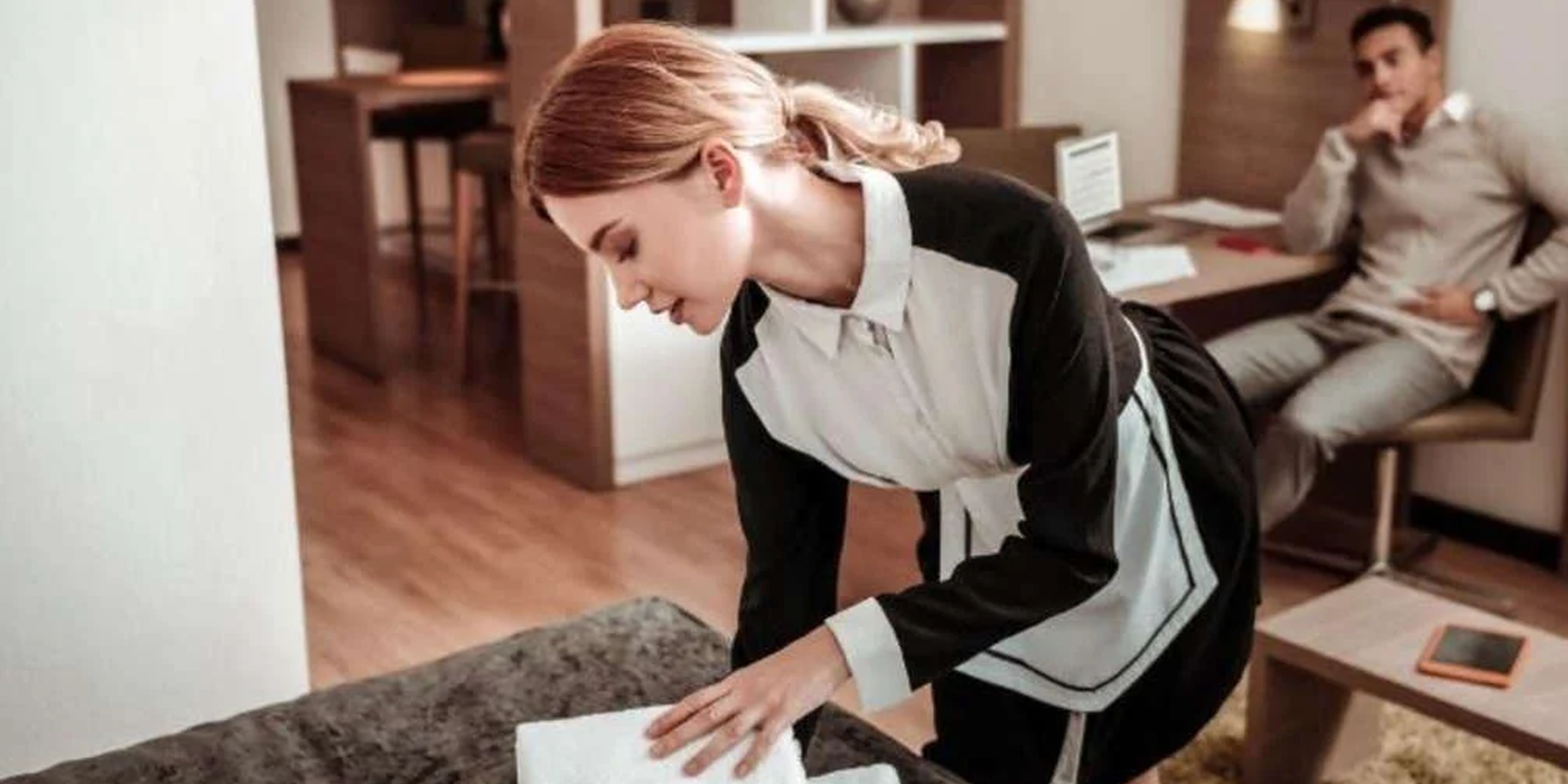 Hoteliers are knee deep preparing 2023 budgets, but until the hospitality industry is back in full swing, many will be looking for ways to short-cut spending. Employee safety, however, is one area of operations that hotel owners cannot afford to ignore.
While local and state municipalities continue to impose legislative requirements for hotel employers to "provide panic buttons to all employees working in guest-rooms or bathrooms without other employees present," it does not appear that swift penalties are being imposed – yet – for noncompliance. Therefore, some operators continue to keep Employee Safety Devices ("ESD") installation on the back burner. While that may seem like a smart financial move, it can be detrimental to operations in many ways.
First, employees may feel that management does not care about their safety and wellbeing, causing them to seek employment elsewhere. The last thing hoteliers can risk today is losing more workers. Second, lack of compliance can cause a hotel to fail its quality inspection if the property is part of a major franchise. Third, should a staff incident happen, the hotel owner or operator can potentially be held liable. Panic buttons create evidence that can hold up in court.
Rather than focusing on the negative, let's look at the many positive benefits that come with ESD implementation:
1. ESDs Show Empathy and Drive Employee Retention
Implementing a panic button solution is the right thing to do for everyone. Although the hotel business is working towards recovery, most properties are still operating with a shortage of staff. The BEST way to attract new employees and maintain loyalty among existing workers is to show them that you care about their physical safety. According to the 2022 State of Workplace Empathy Report, the pandemic and its impact on employees' personal lives, the labor market, and the economy, is causing employers to renegotiate the social contract between employees and employers. As human resources teams push for associates to return to work, employees are pushing back. The report shows that employees' empathy perceptions are starting to fade: 69% of employees say their organizations are empathetic, down from 72% in 2021. One of the best ways that hoteliers can keep their associates happy is to invest in technology that keeps their people safe while on the job.
2. ESDs Help Hotels Pass Quality Inspections
Like it or not, when a hotel's next Quality Assurance Inspection rolls around, ESD compliance is now part of the checklist if the property is managed or franchised by one of the 60 hotel companies that made a pledge to the AHLA's 5-Star Promise initiative. That means if the hotel has not equipped certain associates with an emergency safety device or panic button platform by the time the brand inspector shows up, chances are likely it can FAIL.
Most of the global enterprise brands require that hotels provide associate alert devices, at a minimum, to associates that frequently work in areas of the hotel that may put them in direct, one-on-one contact with a guest in enclosed areas. Some require the devices to have geolocation capability to locate an associate, minimally, within a 5-meter horizontal radius. Geolocation coverage must include (but is not limited to) guest-rooms, guest-room floor service landings, guest-room floor housekeeping storage closets, spa treatment rooms, and public restrooms.
QA inspectors will be checking to see that ESDs are part of the associate uniform and worn when provided to the person by the hotel, and properties must follow ESD inventory, maintenance, testing, and response procedures. QA inspectors will now be looking at batteries in wearable panic buttons and related beacons too.
3. ESDs Can Reduce Costs
Workers' comp discounts are available to hotels with a safety program in specific states. Employers who implement React Mobile in the state of Florida, for example, may be eligible to receive up to a 2% credit on their workers' compensation insurance premiums. A reduction in a hotel's CAPEX costs is also possible when integrating with and leveraging existing hardware and software systems already in use at the property. This can lead to increased functionality and reliability as well as a decreased cost of deploying a robust safety platform. In addition, it can provide a simple, user-friendly interface and require little to no training, with fast and seamless integration with current hotel systems, such as WiFi solutions providing wireless access points or workforce management systems and housekeeping apps that eliminate the need for Bluetooth® Beacons to be installed. In most cases, hoteliers can save up to 70 percent on CAPEX costs by piggybacking off of existing communication systems.
4. ESDs Help Protect the Hotel's Reputation
Research shows that 69% of job seekers are likely to reject an employment offer from a company with a bad reputation; a bad reputation costs a company at least 10% more per hire. The reason why so many municipalities created panic button legislation is in a direct response to media reports of crimes against hotel employees, and we all know that the media has the power to make or break a hotel. No matter how beautiful a property may be, or how much it has invested in cutting-edge technologies and amenities, it can't operate without its people. But workers will not stay at a hotel continues to ignore all the risks. Panic buttons will go a long way towards boosting a hotel's online reviews and word of mouth reports. After all, employees are consumers too, and they can tarnish your reputation just as easily as a disgruntled guest.
5. ESDs Extend Security Services Beyond Back of House
Having mobile access to emergency alerts is real-time is critical. Whether an employee needs immediate assistance with a hotel guest in medical distress on the golf course or a worker finds himself or herself in an uncomfortable or unsafe situation in the parking garage, panic buttons can be leveraged for use beyond traditional back of house departments. Essentially, any in-room dining or minibar attendant, registration agent, pool lifeguard, masseuse, valet, or office administrator can summon help in seconds — including mobilizing first responders for guests or co-workers who may be in medical distress.
Investing in a safety platform that is cloud-based, easy to use, and integrates seamlessly with existing hotel software to provide location-based alerts in the event of an emergency speaks volumes about the integrity of the hotel company and their desire to protect their people. Nothing should take more precedence than employee security.
About React Mobile
Founded in 2013, React Mobile is a global leader in providing panic button solutions for hotels. Our best in class hospitality safety platform helps hotels keep their employees safe. The React Mobile system is an open and flexible platform that allows management to deploy response resources to the exact location of an emergency within seconds of an alert, getting help to where it's needed anywhere on or off property. In an emergency quick response times are essential and React Mobile gives you the tools to react fast. For more information, visit www.reactmobile.com.