React Mobile vs. Multi-Use Technology for Workplace Safety
by Jiun Wang, on Aug 1, 2022 9:00:00 AM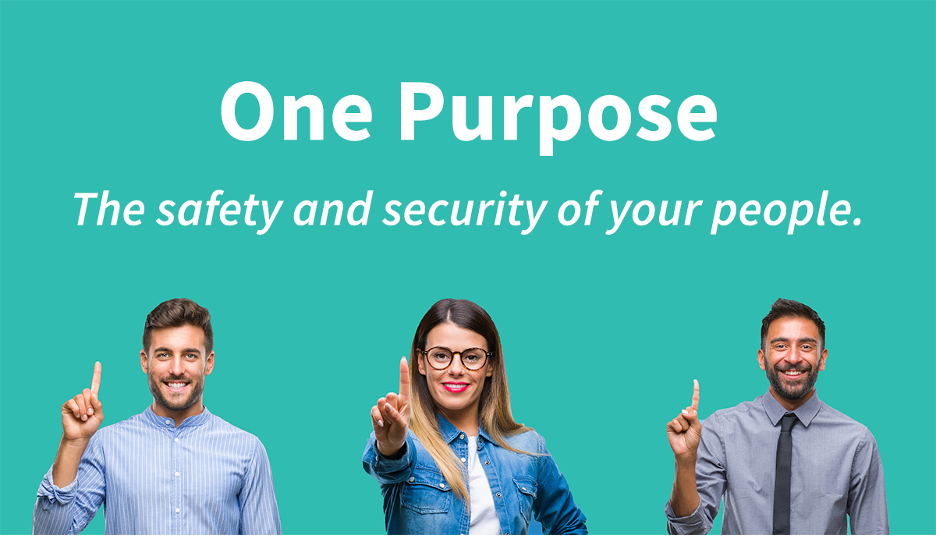 As a leader, providing a safe and comfortable workplace for your employees is a foundational priority in conveying a positive and caring culture. One type of workplace safety technology, that has become a hotel brand standard, is panic buttons, sometimes called safety duress buttons or safety devices. In 2018, dozens of major hotel brands announced their commitments to the AHLA 5-Star Promise, where one of the commitments was to provide U.S. hotel employees with safety devices to help them feel safe on the job.
With the understanding that hotel brands have plans to implement panic buttons on their properties, many technology vendors have focused on supporting the brands to improve workplace safety. Some vendors provide a workplace safety solution specific to safety and security. In contrast, others have added additional features to allow an employee to use the device to send a distress signal. In this blog post, we will compare React Mobile, a purpose-built workplace safety solution, to multi-use technology to help you decide which devices will protect your most important asset - your people.
The benefits of a purpose-built panic button for workplace safety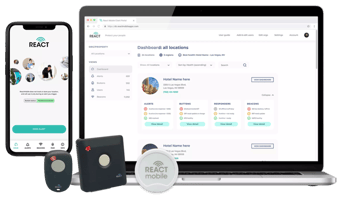 When it comes to the safety and security of your team members at work, it may be natural to seek out technology designed and developed from the ground up to protect a person in distress and provide help immediately. From the device hardware shape to the software that notifies security personnel of an employee needing help, a company like React Mobile puts 100% of its focus on creating the best-in-class workplace safety solution. Below is a list of the benefits of choosing a solution built only for workplace safety.
Pros:
The panic button hardware is made to be wearable and lightweight. It has a long battery life, so a person can feel comfortable having it on their person and not worry about constantly charging the device.

The Bluetooth low-energy beacon is one location-data configuration option that allows for discreet placement in a building. They are battery-powered to avoid costly installations (i.e., drilling, wires, bulky base stations) and are estimated to last four years before replacement.

Expert installation technicians understand the best location-data configuration to place beacons in a building. The placement is critical since it provides the responder with the precise location of the employee including floor and room number during an active panic button alert.

Custom-built software is created to interface with the hardware technology so an administrator can control and manage the solution, check battery life, keep a historical log of incidents, and more.

The Over-the-Air (OTA) firmware on the hardware is updated more frequently to provide peak performance.

Dedicated account managers are assigned to provide immediate and personalized troubleshooting and training. They also have greater insight into the best practices of other clients regarding the storage, care, and maintenance that you may want to incorporate into your workplace safety policy.
Multi-Use Devices with Panic Button Functionality
In the hospitality space, a wide array of technology assists with the operations of the day-to-day functions for guests and employees at a hotel property. With the increase in demand for a technology solution that can provide employees with workplace safety, several vendors jumped on the opportunity to add new functionality to their existing technology. Two-way radio devices are a common technology solution with newly added features to meet the minimal requirements for a panic button solution.
The problem with two-way radio devices for employee distress calls
At first, it may be nice to have a device that can use voice communication and activate as a distress signal. The underlying concern for many operators is how reliable the technology is when it serves more than one purpose? The original technology only consisted of a network of radios but adding location data may cause performance problems. Here are some points to consider when considering using a two-way radio device for safety:
The technology focuses on optimizing voice communication first, and the safety alert feature is the second.
Using the device for two purposes significantly reduces the battery life and requires constant re-charging.
It may require purchasing extra accessories for the device to be wearable on a lanyard.
Limited or no segmentation of broadcasting alerts to specific groups of people (i.e., only management or security teams) using the device.
Requires more time to train employees and difficulty memorizing what buttons do on a multi-use device during adoption.
They have a small amount of user testing data and lack experience providing safety technology and room-level location data.
The problem with asset tracking technology used for safety
It's become more common for hotels to have an inventory of guest-requested items, such as rollaway beds and room trays. The ability to track your assets on-site improves productivity but adding a safety feature to an inventory management network may risk reliability and performance. From a system that was originally created to track physical objects on-site that are relatively static for the majority of the time to a system that needed to track people during an active alert that may move around frequently may be of concern for the accuracy of the location data. Here are some additional points to consider when using an asset tracking technology company for a safety solution:
The panic button device may not be the primary technology they specialize in developing.

The portal that provides administration for the technology may be clunky and lack data insights related to safety information.

Requiring additional expensive "gateways" to be installed in rooms increases the Capital Expense (CAPEX) cost significantly.

The location data may have a time delay in updating the correct location information quickly during an emergency.
What type of panic button device is right for a hotel property?
Safety is a foundation and priority of hotel leadership. Choosing a workplace safety solution that provides a life-safety panic button in the hands of the everyday working team can be overwhelming with different options to consider. It's paramount to factor that every second counts during an emergency when an employee is being harassed or threatened and having reliable technology that can dispatch help to that employee can make a difference.
Would you rather have a solution where the vendor's team spends 50% of their time on voice communication development and 50% on safety performance measures? Or have a true workplace safety solution, knowing that 100% of the vendor's efforts are constantly improving and maintaining a system that keeps your people safe and notifies your team as quickly as possible of alerts.
Creating a safe workplace for everyone
Being in the hospitality industry and taking care of guests when they arrive, stay, and depart your property is a rewarding job – but it doesn't come without some risks and stressful situations. There may sometimes be interactions with unsatisfied guests, break the law, or be a disturbance to other guests that may require a call of on-site help to maintain a safe space.
If you like knowing that your workplace safety vendor is putting all their efforts into providing you with the best solution, React Mobile may be the right choice. Learn more about us by scheduling a free demo with us.